Usa Ondesoft iTunes Converter per convertire

Canzoni di Apple Music
Rimuovi Apple Music DRM e scarica brani, album e playlsit di Apple Music in formati privi di DRM, come MP3, M4A, ecc.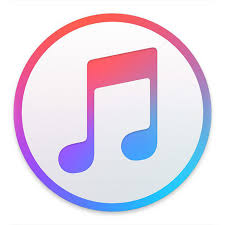 iTunes Musica
Converti qualsiasi brano iTunes protetto da DRM e non DRM in MP3, M4A, AC3, AAC, AIFF, AU, FLAC, M4R, MKA, WAV.

Audiolibri di iTunes
Converti gli audiolibri iTunes acquistati in MP3, M4A, AAC, ecc. per l'ascolto offline su qualsiasi dispositivo.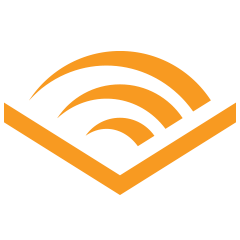 Audiolibri udibili
Converti gli audiolibri Audible acquistati in MP3, M4A, AAC, ecc. per l'ascolto offline su qualsiasi dispositivo.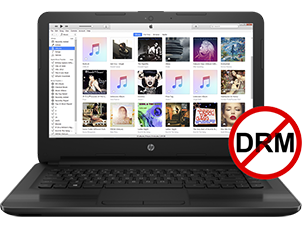 Rimozione di iTunes/Apple Music/Audible DRM
Ondesoft iTunes DRM Audio Converter ti consente di rimuovere facilmente DRM dai brani iTunes M4P, dai brani Apple Music e dagli audiolibri iTunes M4B, M4P e Audible AA, AAX.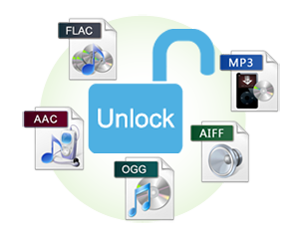 Convertitore da M4P a MP3
iTunes M4P to MP3 Converter rende estremamente facile per chiunque convertire brani, audiolibri, brani di Apple Music e audiolibri Audible protetti da DRM di iTunes in formati audio privi di DRM come MP3, M4A, AC3, AIFF, AU, FLAC, M4R, MKA. Puoi scegliere la qualità del file di output o personalizzare la velocità in bit e la frequenza di campionamento in base alle tue esigenze.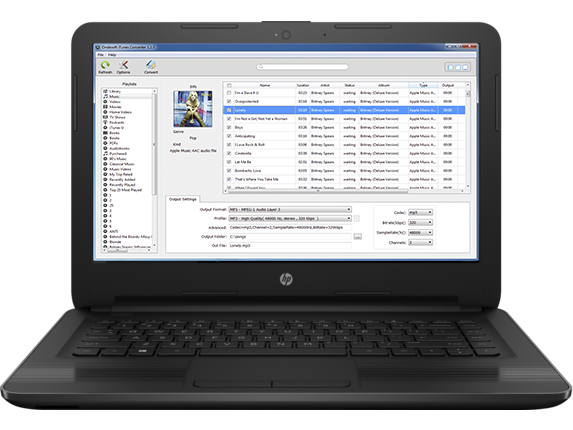 Conversione batch di brani iTunes
La conversione batch ti consente di convertire facilmente l'intera libreria iTunes Music e Audiobook in MP3.

iTunes Audio Converter carica automaticamente la tua libreria di iTunes, basta fare clic sul pulsante "seleziona tutto" e quindi avviare!

Personalizza il formato del nome del file audio di output tra cui Titolo, Artista, Album, ID traccia e ID disco.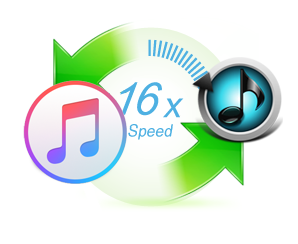 Velocità di conversione veloce
La conversione di iTunes M4P, Apple Music e Audiolibri a velocità 16x rende Ondesoft iTunes Converter per Windows l'opzione più veloce quando si tratta di sbloccare i supporti protetti da DRM di iTunes.
Conserva i metadati musicali di iTunes
Ondesoft iTunes Music Converter conserva automaticamente i metadati musicali inclusi titolo, artista, artista album, album, genere e grafica quando converti iTunes M4P in MP3/M4A. Puoi anche personalizzarli da solo.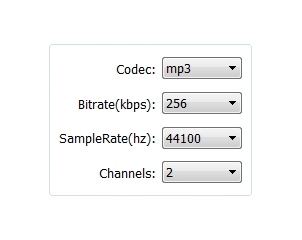 Personalizza la qualità della musica
Ondesoft iTunes Converter per Windows offre la possibilità di modificare i parametri audio come frequenza di campionamento, numero di canali e bitrate (i valori variano a seconda del formato scelto).

iTunes M4P Converter per Mac codifica i file di output direttamente durante la registrazione, lo spazio su disco extra non è ostruito da file temporanei eccessivi.

Nessun requisito hardware aggiuntivo significa che Ondesoft iTunes Converter per Mac è l'unico programma di cui hai bisogno per sbloccare tutti i tuoi file audio iTunes protetti da DRM!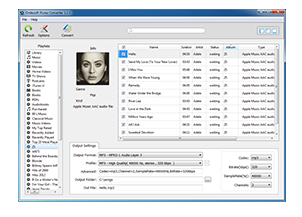 Interfaccia simile a iTunes
Ondesoft iTunes DRM Removal software for Windows features the similar interface as iTunes and it automatically loads all your iTunes files, library and playlists. You can also customize appearance of the interface as you like.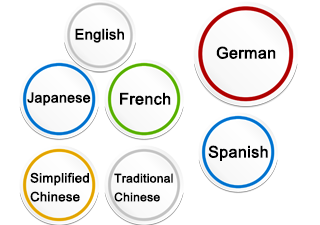 Multilingual interface
Ondesoft iTunes Converter is available in 7 language (English, Chinese Simplified, Chinese Traditional, French and Japanese, Spanish and German) to meet the need of global users.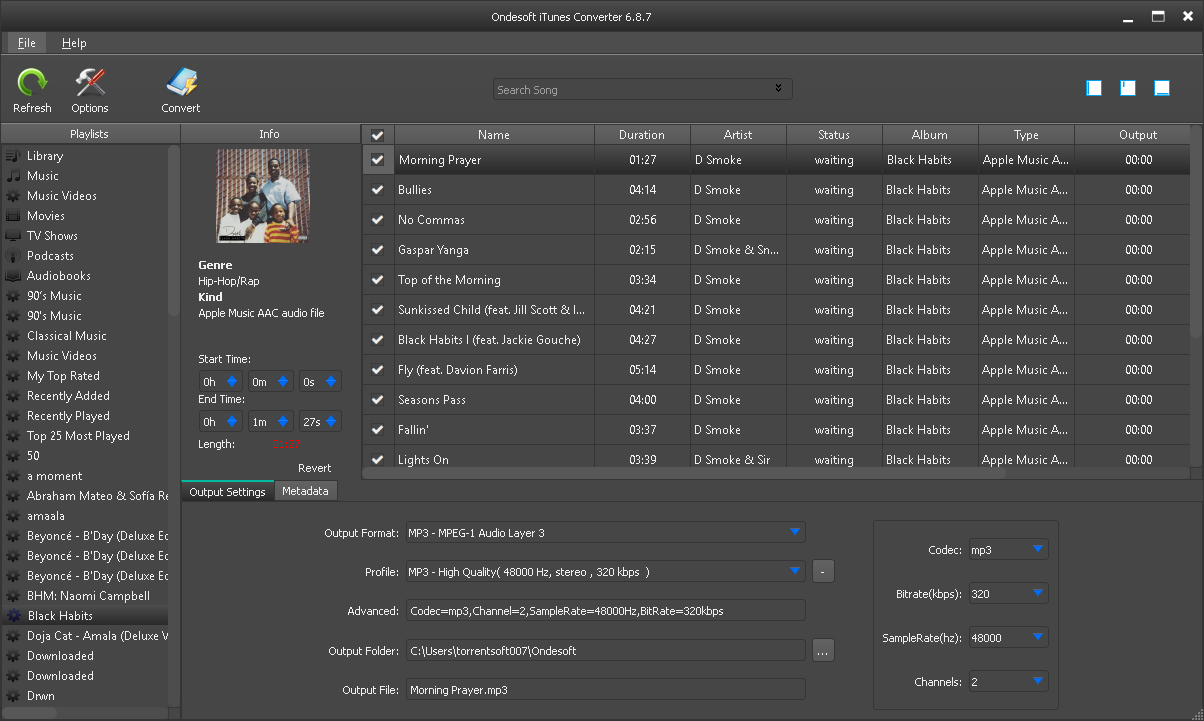 User-friendly iTunes Music Converter
Once launched, iTunes Converter will load your iTunes library automatically. All you need to do is select songs or playlists you want to convert, choose output format and then click Convert. It also provides some advanced settings.
Audio quality
Changes your song quality with bitrate and samplerate.
Filename format
Rinomina le tue canzoni con qualsiasi combinazione di titolo, artista, album, trackID e DiskID.
Ordina la tua musica
Ordina la tua musica con album o artista e salvali in cartelle diverse.
Regola il volume della canzone
Regola il volume della canzone per soddisfare le tue esigenze.
Domande frequenti
Ami la musica come noi? Prova iTunes Converter