YouTube is one of the most popular video hosting platforms out there. You can find all knids of videos here. Popular types of video content covers: Product reviews video, How-to videos, Vlogs, Gaming videos, Comedy/skit videos, Haul videos, Memes/tags, Favorites/best of, Educational videos, Unboxing videos, Q&A videos, Collection and Prank videos. Sometimes you may run into a piece of beautiful music that you want to save, then you may wonder is there a YouTube audio ripper? How to extract audio from YouTube video?
If you want to extract the entire audio from the YouTube video, use online tools like https://youtubemp3.today/v12/. However, sometimes you may just want a segment of the audio, then here we will show you a powerful YouTube audio ripper- Ondesoft Audio Recorder - you can extract entire or any audio segment from any YouTube videos .
Follow below steps to extract audio segment from YouTube video:
Step 1: Install YouTube Audio Recorder on Mac

Free download and install trial version of YouTube audio recorder software on Mac (Period for free trial is 15 days). After installation, a desktop icon will be created for later quick launch. Now, open Music recorder on Mac.

Step 2: Record Audio from YouTube videos

Add web browser you are using as recording source. The web browser can be Safari, Google Chrome or Firefox and etc. and hit "Record" button. Now go to YouTube , find and play the music or videos you would like to download. Until now, the YouTube Recorder is working now. As a smart audio recorder, it can always ensure users can get continuous audio file even though the YouTube video can't play smoothly. The recording program will record or pause automatically and synchronously as YouTube videos play or stop.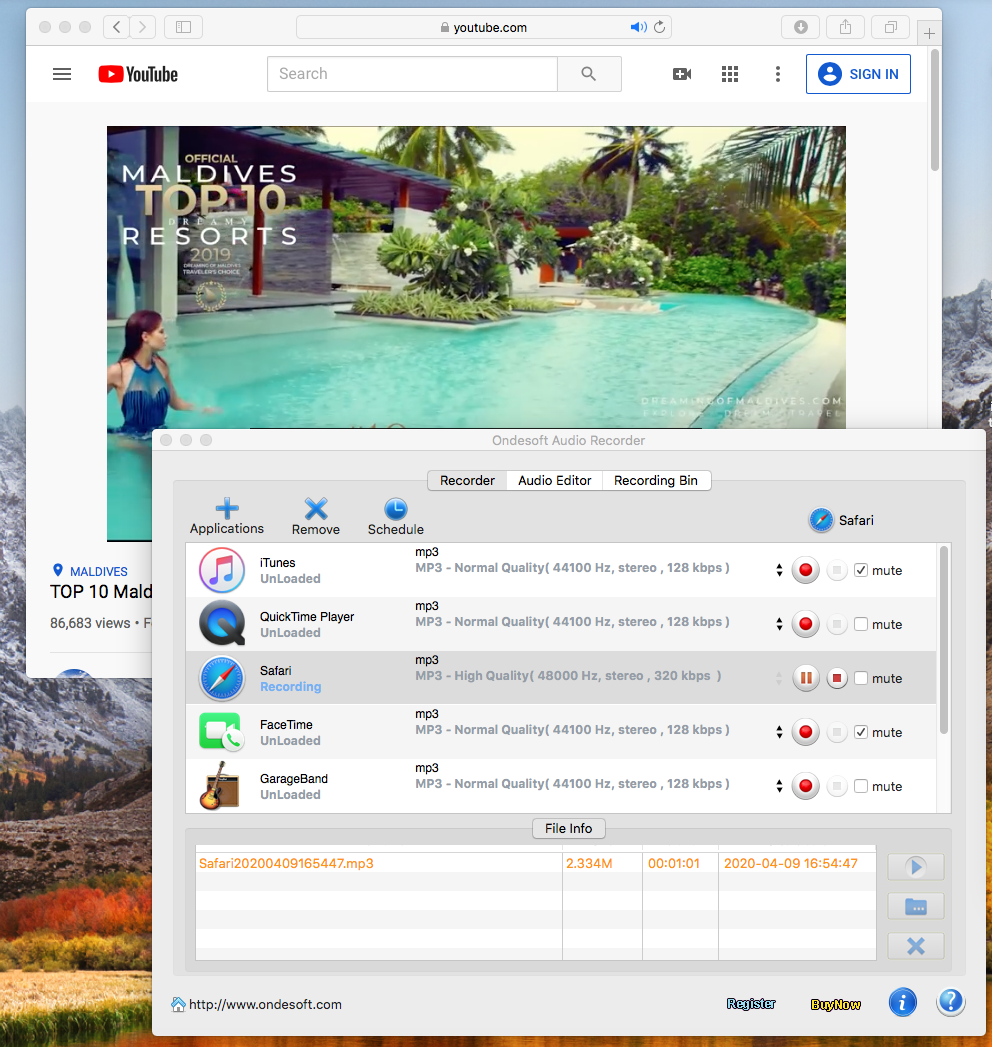 Step 3: Edit Recordings to personalize home-movie sharing (optional)

If you wan to edit and personalize the recordings to apply them into your home movie and share them on YouTube, this audio recorder is the right choice for you. You can remove off or prelude audio or generate a new audio including all your favorite audio clips.

Only two steps you can record audio from YouTube videos. So easy, right? Now, let's start to make our own home videos to share them on YouTube.
Related reading: