If you buy a movie or TV show from the iTunes Store, you can stream it on your iPhone, iPad, iPod touch, Mac, PC, or Apple TV, as long as you're signed in with the same Apple ID. However, what to do if you want to watch the movie/TV show on the bigger TV screen with your family but don't have an Apple TV? Here shows you 5 ways to watch iTunes movies/TV shows on TV without Apple TV .
1. Use Movies Anywhere app on supported TVs
2. Use Apple TV app on select 2018 and 2019 Samsung TVs
3. Watch iTunes movies on TV via USB drive or hard drive
4. Connect your laptop to TV
5. Connect your iPad/iPhone to TV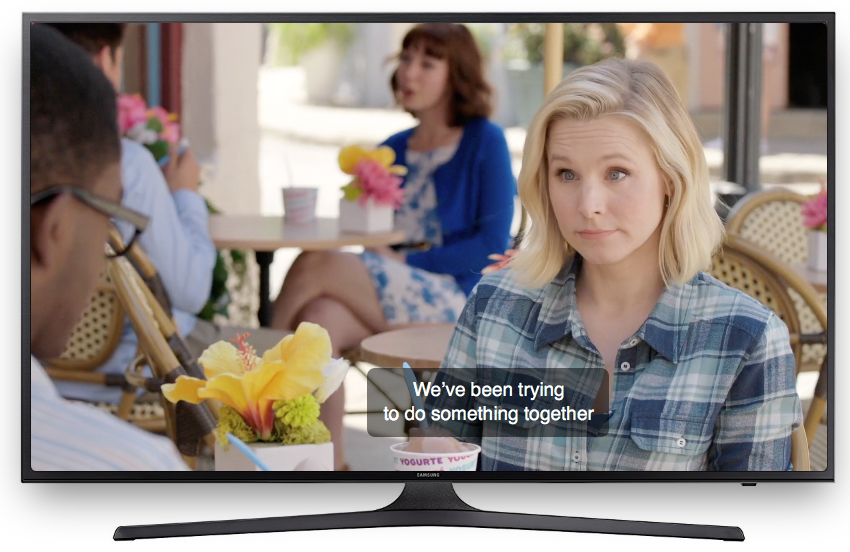 1. Use Movies Anywhere app on supported TVs
If you are in United States and you have Android TV, Fire TV, NVidia Shield TV or Roku, you can install Movies Anywhere app to watch iTunes movies. Movies Anywhere gathers movies you purchased from iTunes, Amazon, Vudu, Xfinity, Google Play/YouTube, Microsoft, and FandangoNOW into one place. Movies Anywhere currently supports movies from the following participating studios: Disney, Sony Pictures Entertainment Inc., Twentieth Century Fox Film Corp., Universal, Warner Bros. Entertainment Inc., but not all movies from these participating studios are eligible for Movies Anywhere. Read More: How do I activate Movies Anywhere on my TV-connected device?
2. Use Apple TV app on select 2018 and 2019 Samsung TVs
What you need:
Apple TV compatible Samsung TVs
Apple TV app is now available on select 2018 and 2019 Samsung TVs. Open the app you can access your existing library of shows and movies, and find new programs to stream, buy, or rent. 
On your TV, navigate to and select the Apple TV app.


Select Settings > Accounts > Sign In > Sign In On Mobile Device.


Two sign-in options appear on your TV. Using your phone, either navigate to activate.apple.com and enter the code that is displayed on your TV, or scan the QR code that appears.


Follow the on-screen instructions to complete the sign in process.
Select a category to browse available content, select Library to view content you already own, or select Search if you know what you are looking for. Scroll through the available titles and select one that you would like, then select Buy or Rent.
Apple TV compatible Samsung TVs
2019 QLED 8K Q900R and 2019 Serif TV
2019 QLED 4K Q90R, Q80R, Q70R, Q7DR, Q60R, and Q6DR
2019 & 2018 Frame TV LS03R/LS03N
2019 4K UHD TV RU8000, RU800D, RU740D, RU7300, RU730D, RU7100, and RU710D
2018 QLED 4K Q9FN, Q8FN, Q7CN, Q7FN, Q75FN, Q6FN, and Q65FN
2018 4K UHD TV NU8500, NU8000, NU740D, NU7300, NU7200, NU7100, NU710D, and NU6070
2018 Smart Full HDTV N5300
Note: 2018 4K UHD TV NU6950, NU6900, NU6900B, and NU6080 will be added later this year.
3. How to play iTunes movies on TV from USB drive?
What you need:
Mac or Windows
Ondesoft iTunes DRM Media Converter
Most TV models have USB port for you to play local content. However, even though you have downloaded iTunes movies and save them to USB drive, you still can't play them on TV. This is because iTunes movies are DRM protected. To play them freely, you need to remove DRM from iTunes movies and convert M4V to DRM-free MP4 . To remove iTunes DRM, you need the professional iTunes Movie DRM removal tool - Ondesoft iTunes DRM Media Converter .

By removing DRM from iTunes movies, you can not only play them on TV, but also Android phones and tablets, Windows phones, MP4 players, PS4, Xbox One, Xbox 360, or any computer, iPhone, iPad without authorization since you can only authorize 10 devices including no more than 5 computers with one Apple ID.
4. How to watch iTunes movie on TV by connecting your laptop to TV?
What you need:
Laptop with HDMI port
TV with HDMI laptop
HDMI cable
Make sure both your laptop and TV has HDMI port. Connect your laptop and TV with HDMI cable. Turn on the TV, use the INPUT button on the TV (either on the remote or on the top of the TV itself) to select HDMI input. More likely than not, it'll be blank. Don't worry. If you are using Windows, open Control Panel and select "Adjust screen resolution". You'll see that it shows there are two different displays, but one of them will be disabled. Click on the second monitor, then choose "Extend the desktop onto this monitor" and click "Apply". The HDTV screen should come to life and show you a Windows desktop background photograph. If it doesn't, try again. After it is set up, play your iTunes movie and now you can enjoy them on the big screen.
5. How to watch iTunes movie on TV by connecting your iPad/iPhone to TV?
What you need:
Apple's Digital AV Adapter
HDMI cable
TV with HDMI cable
The simplest way to connect your iPhone or iPad to your TV is to use a cable like Apple's Digital AV Adapter, which connects your Apple device to your TV's HDMI port. You'll also need a standard HDMI cable. The adapter plugs into your iPad through the lightning connector, which is the port under the Home Button normally used to charge the iPad, and an HDMI capable can be plugged into the other side, allowing you to hook it up to your TV. Your TV will become a duplicate of the connected device's screen in 1080p HD. Now you can play your iTunes movies on iPad/iPhone and watch them on the TV.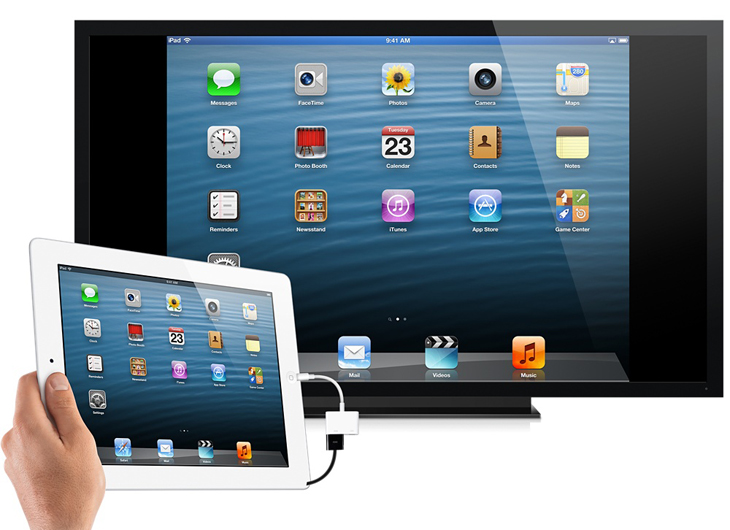 Copyright © 2020 Ondesoft- http://www.ondesoft.com - All rights reserved