YouTube Music Downloader - How to download music from YouTube?
Have you ever been captivated by some great background music while enjoying a video on YouTube? At this point you may want to rip the audio from the YouTube video and save it to your computer/tablet/phone/mp3 player, etc. for you to experience at your leisure or apply it to your own videos (for personal use only). Currently there are kinds of youtube music downloaders on the internet. Google it and you will find many results. Some of them are online tools, others need you to install first.
With the right tool, you can easily Download songs from Youtube to mp3, m4a, wav, etc. Here we will list several easy-to-use YouTube music downloader tools.
1. https://www.flvto.biz
https://www.flvto.biz makes converting streaming videos to MP3 online easier and faster. Open the website, copy&paste the url of the youtube video and then click CONVERT TO.

After covnersion, click below Download File button and you will get the audio files. If you feel online conversion is too slow, you can also download and instsll its mac app.

There are also many other similar online tools or apps, you can try them out. However, all of these YouTube music downloaders directly download the whole audio from YouTube video. You can't choose the start or ending time. If you just need a segment of the audio file, you need to get a audio cutter. Here we will show you a tool that allows you to download any segment of any YouTube video.
This YouTube music downloader is called Ondesoft Audio Recorder . Ondesoft Audio Recorder is a Mac app that allows you to record any sound on Mac . When you want to get a audio segment from YouTube video, just run Ondesoft Audio Recorder, click the record button and then play the youtube from the point you want, click stop button at the ending point and you will get any audio segment you want.
Now let's record fair music off YouTube videos to make background music for your own home movies:

Step 1: Install YouTube Audio Recorder on Mac

Free download and install trial version of YouTube audio recorder software on Mac (Period for free trial is 15 days). After installation, a desktop icon will be created for later quick launch. Now, open Music recorder on Mac.

Step 2: Record Audio from YouTube videos

Add web browser you are using as recording source. The web browser can be Safari, Google Chrome or Firefox and etc. and hit "Record" button. Now go to YouTube , find and play the music or videos you would like to download. Until now, the YouTube Recorder is working now. As a smart audio recorder, it can always ensure users can get continuous audio file even though the YouTube video can't play smoothly. The recording program will record or pause automatically and synchronously as YouTube videos play or stop.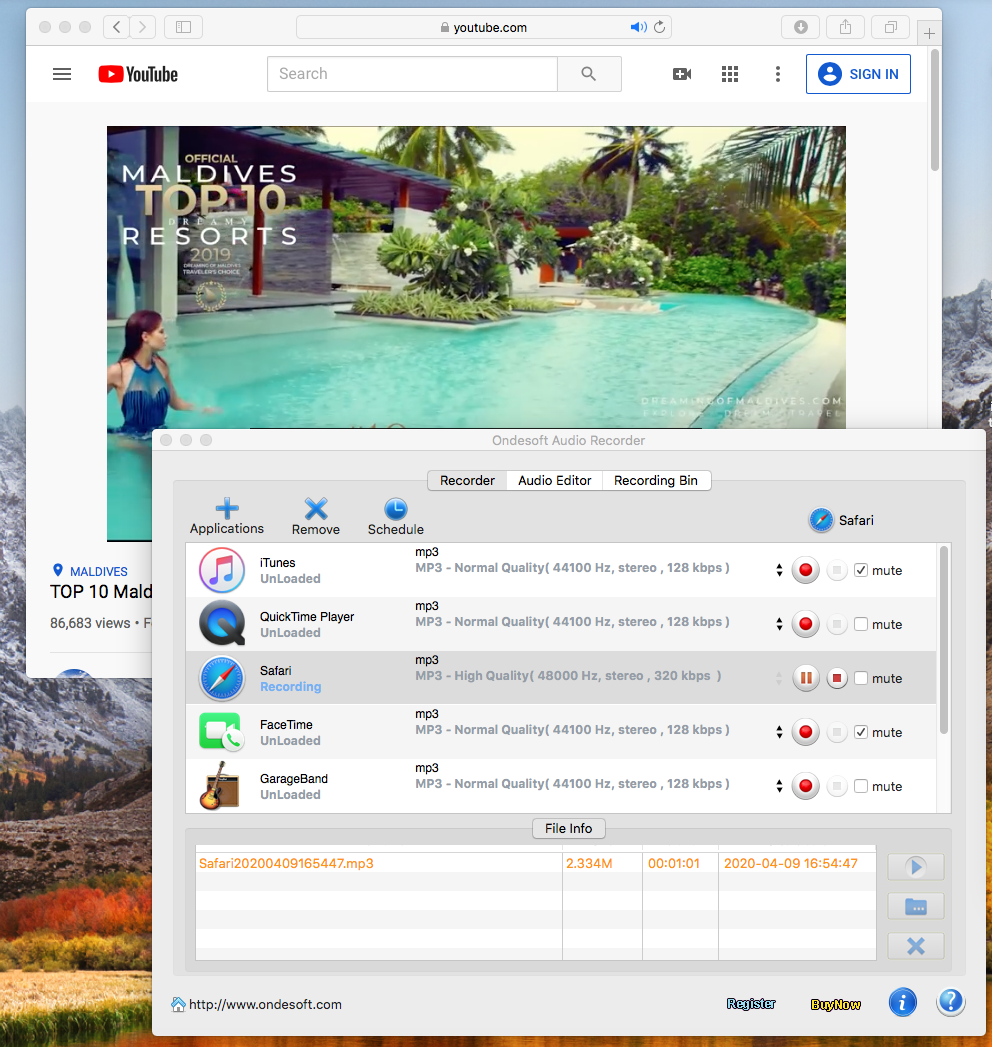 Step 3: Edit Recordings to personalize home-movie sharing (optional)
If you wan to edit and personalize the recordings to apply them into your home movie and share them on YouTube, this audio recorder is the right choice for you. You can remove off or prelude audio or generate a new audio including all your favorite audio clips.
Only two steps you can record audio from YouTube videos. So easy, right? Now, let's start to make our own home videos to share them on YouTube.