4 Tools to record audio from YouTube
YouTube is a video-sharing community, where people can upload, view and share videos with friends or families. When you watch those interesting videos, you may find some fair and original background music that you like. Is there any way to extract the audios from YouTube video and play them on your MP3 player? Here we will introduce you 4 YouTube audio recorder tools that allows you to easily record audio from YouTube videos.
1.Free Sound Recorder
Free Sound Recorder is a comprehensive sound recording utility, able to record any internal and external sound without losing quality.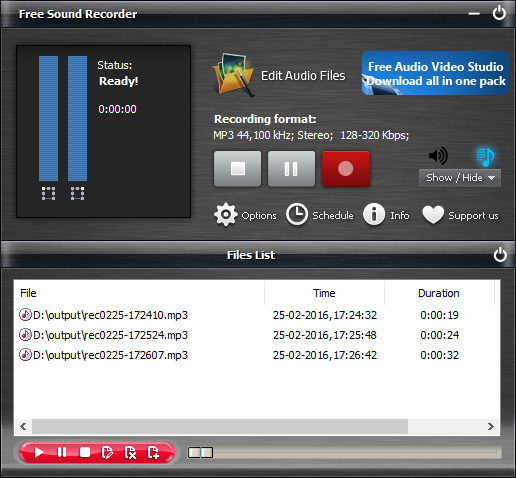 Price: free for Windows
System requirements: Windows 10/Windows 8.1/Windows Vista/Windows 7/Windows XP
Output format: MP3, WMA, WAV, OGG
2. Streaming Audio Recorder
Streaming audio recorder allows you to record streaming audio from music sites, video platforms, radio stations or capture sound from audio chats effortlessly.
Price: $69.95 for personal and $159.9 for business
System requirements: Windows 10/Windows 8.1/Windows Vista/Windows 7/Windows XP
Output format: MP3, WMA, AAC, FLAC, WAV, M4A, OGG
3. Wondershare Filmora
Filmora scrn is an easy-to-use screen recorder that is perfect for recording games, or anything else you want to capture. Much more than a simple screen capture program, Filmora scrn includes a video editing suite tailored for screen recordings. You can cut, rotate, and crop your clips. You can also add annotation and custom cursor effects. Videos created with Filmora scrn can be exported as MP4, MOV, MP3 or GIF. Filmora scrn also allows you to record your YouTube audio and then save the recorded audio to MP3 format at exporting and then you can listen to the recorded audio and music even when there is no network connection.
Price: $29.99
System requirements: macOS X 10.11-10.14 or Windows 10, 8, 7
Output format: MP3
4. Ondesoft Audio Recorder
Ondesoft Audio Recorder is a powerful and easy-to-use Mac audio recording software, with it, you can capture and record audio from any application on Mac (Safari, Firefox, Chrome, Skype, iChat, iTunes, Apple Music , VLC, QuickTime, FaceTime), record streaming music from YouTube, Apple Music, Spotify, Vimeo, Pandora, Lastfm, GrooveShark, and iTunes Radio, grab audio from Mic and CD player.
Price: $29.95
System requirements: macOS X 10.11-10.15
Output format: MP3, AAC, AC3, AIFF, AU, FLAC, M4A, M4R, MATROSKA, OGG
Now let's record fair music off YouTube videos to make background music for your own home movies:
Step 1: Install Ondesoft Audio Recorder on Mac

Free download and install Ondesoft Audio Recorder software on Mac.

Step 2: Record Audio from YouTube videos

Add web browser you are using as recording source. The web browser can be Safari, Google Chrome or Firefox and etc. and hit "Record" button. Now go to YouTube , find and play the music or videos you would like to download. Until now, the YouTube Recorder is working now. As a smart audio recorder, it can always ensure users can get continuous audio file even though the YouTube video can't play smoothly. The recording program will record or pause automatically and synchronously as YouTube videos play or stop.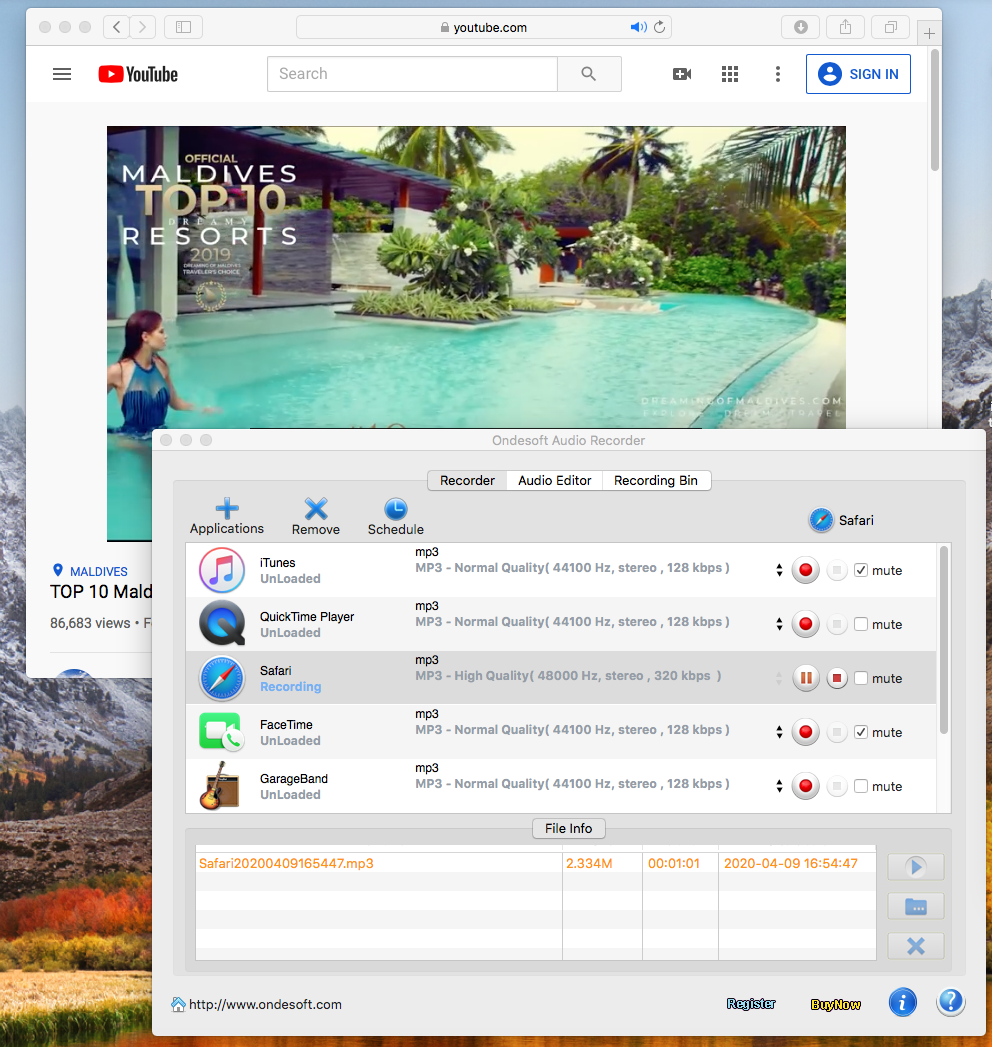 Step 3: Edit Recordings to personalize home-movie sharing (optional)
If you wan to edit and personalize the recordings to apply them into your home movie and share them on YouTube, this audio recorder is the right choice for you. You can remove off or prelude audio or generate a new audio including all your favorite audio clips.
Only two steps you can record audio from YouTube videos. So easy, right? Now, let's start to make our own home videos to share them on YouTube.
In the same way, you can also rip audio from vimeo videos.
Related reading: