How to record Internet radio?
Many people love to listen to songs from Internet radio stations. There are many websites for you to choose, including the latest music, songs, albums and news from worldwide. But it only allows users to enjoy radio online. Since radio is real-time, when you come across some beautiful songs, you can only listen to them once and can't save and replay them at any time you want. How to record music from Internet audio and enjoy them offline? It is very easy with this powerful internet radio recorder - Ondeosft Audio Recorder . You can record any beautiful music or huge news from any internet radio and save them to all the most common audio file types, including: MP3, AAC, AC3, AIFF, AU, FLAC, M4A, M4R, and MKA. Save your audios to portable audio player and enjoy your favorite music at any time anywhere.
This tutorial will show you how to record internet radio stations such as Shoutcast, Last.fm, Live365 and Pandora, etc.
Step 1 Download, install and run Ondesoft Audio Recorder on your Mac.
Step 2 Click Application icon to add the application you used to play radio station. If you play the radio station with Safari then add Safari. The default output format is MP3. If you want to change it, click
to choose from: aac, ac3, aiff, au, flac, m4a, m4r, mka, or ogg.
Step 3 Click

and then play radio. The recording starts. If you don't want to be disturbed by the radio, click mute option. Click

to pause recording or

to stop recording. Click

to play the recorded radio in iTunes directly or click

to quickly locate the file.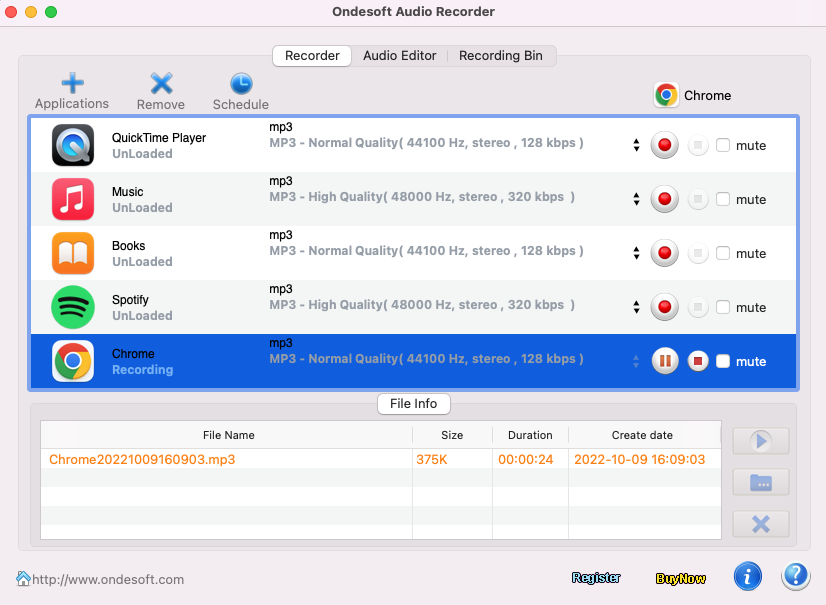 Ondesoft Audio Recorder has a built-in Audio Editor. You can use it to trim or crop the recorded radio file or any audio file you have.
After recording, you can play the recorded audio files on any computer, tablet, phone, mp3 player, etc. even without internet connection.
The following video is a step-by-step tip for your reference.
You can also go to http://youtu.be/39Bmu69iwRI to watch the video.