Record QQ conversations
As the most popular free instant messaging computer program,Tencent QQ has become an indispensable communication tool in our daily life. Most people have one or several accounts and each contain many contacts. Chatting on it with friends will absolutely save more money than chatting on phones. Does it ever occur to you to record interesting and precious conversations to play it with any devices or keep it as souvenir, or you guys are talking about some complex problems so it's better to preserve it. However QQ Instant Messenger doesn't offer a sound recording feature. So we recommend you a powerful utility to fulfil your expectations, that is Ondesoft Audio Recorder for Mac .
With the newest version of Ondesoft Audio Recorder, chats between you and your friends will be recorded to one complete file once either of you initiate recording QQ feature.
Now free download and install trial version of the Ondesoft Audio Recorder on your Mac.
Then how to record high-quality QQ conversations?
First, add QQ application to the recorder, click

to launch QQ.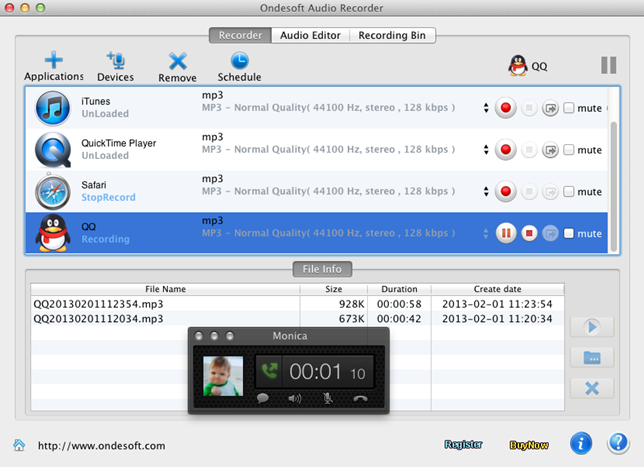 Then, initiate a video or audio chat with your contact, the recording will begin. Talk as long as you like, all sounds will be recorded without quality loss. To end the recording, simply press "Stop" button. Then you can import your recorded audio chat to iMovie or play them in iTunes or QuickTime Player.