How to play Spotify music on Roku
Spotify has returned to Roku players and Roku TVs on October 31, 2018. You can search for albums and playlists to listen to or browse music recommendations from Spotify directly on your Roku device.
Spotify is available on select Roku players and Roku TVs with Roku OS 8.2 or higher. Click here to add Spotify from the Roku Channel Store, or search for it in the Streaming Channels section of your Roku device.
What Roku devices support Spotify?
Spotify is supported on all Roku TV models and select Roku streaming players (models 3600 and above). The minimum required software version is Roku OS 8.2. Your Roku device checks for an update every 24-36 hours or you can manually check for a software update if necessary. You need to know the software version and device model. To find this information, go to the home screen on your Roku device and select Settings > System > About .
How to install Spotify on supported Roku devices?
Open the Roku Channel Store by selecting Streaming Channels from your home screen, and then browse the Music genre or select Search Channels and search for 'Spotify'. When you add the channel, it will appear at the bottom of the list of channels under Home on the main screen of your Roku device. If you prefer, the channel can be moved higher in the list.
How to play Spotify on non-supported Roku devices?
Roku Media Player allows you to listen to your music files using the Roku device's USB port (if available) or by accessing a media server on your local network. Some Roku devices include a USB port to which you can connect an external USB drive for the purpose of playing locally stored audio files. Or you can play content stored on computer on your Roku device using DLNA. Both your computer and Roku devices must be on the same network. You may wonder how about downloading Spotify music to computer, then play it on Roku by USB or DLNA. Unfortunately, you still can not play downloaded Spotify songs on Roku because they are protected by DRM protection. What's more, Roku devices only support AAC, MP3, WMA, FLAC, PCM, DTS and ALAC format audio files, not include Spotify OGG format. So, no matter you select to use USB or DLNA, you should download Spotify music first, then convert it to Roku supported format.
Related: Stream Spotify music on Chromecast
All you need is a professional Spotify downloader , DRM removal and converter. Here we highly recommend Ondesoft Spotify Music Converter . It is designed to download Spotify music, strip DRM from your Spotify music and convert Spotify music to mp3 with lossless quality. The following tutorial focus on how to download and convert Spotify music by using Ondesoft Spotify Converter and play them on Roku.
Part 1 How to download Spotify music and remove DRM by Ondesoft Spotify Converter?
Step 1. Run Ondesoft Spotify Converter
Please make sure you have installed Spotify app on your computer. Then download, install and run Ondesoft Spotify Downloader.
Step 2. Add Spotify songs
Go to Spotify to find any songs or playlists you want to convert, you can drag&drop them to the Spotify Converter directly. Or you can copy&paste the link of the song/playlist from Spotify web player. Then Click the Add button to import all songs.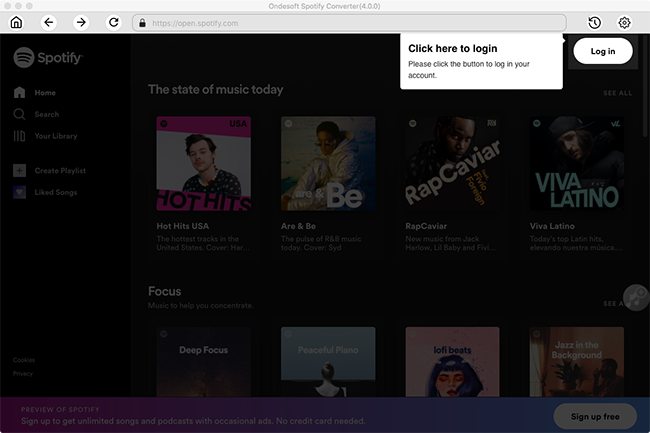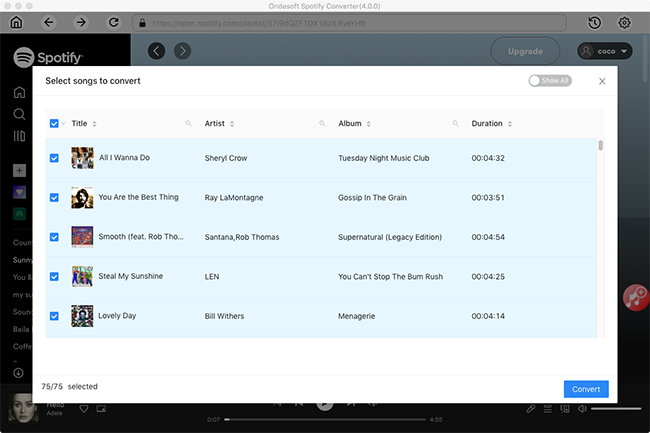 Step 3. Set output preference
Ondesoft Spotify Converter allows you to convert Spotify music to 4 formats, including MP3, M4A, WAV and FLAC. You can also change the output folder, bitrate and sample rate according your needs.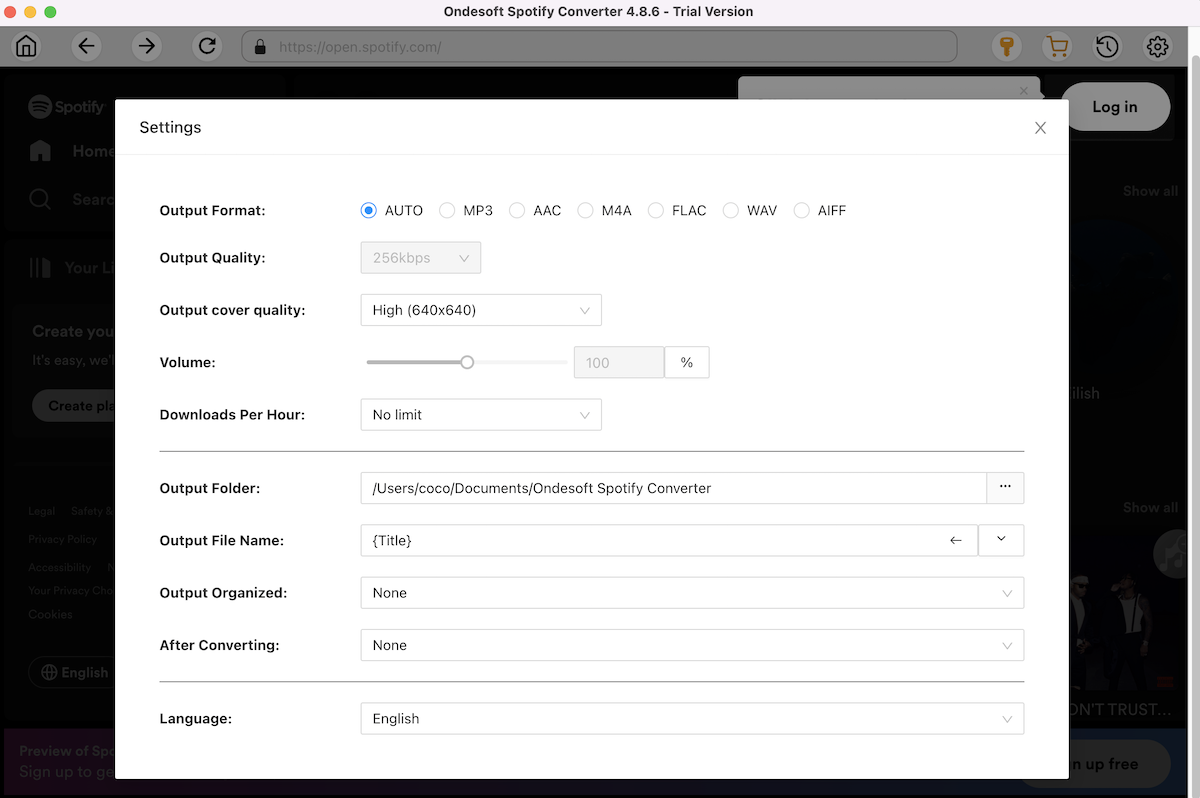 Step 4. Convert Spotify music
After changing the output settings, click the Convert button to start removing DRM from Spotify music and converting them to the format you select. When the conversion finishes, click the History button to find all converted Spotify music.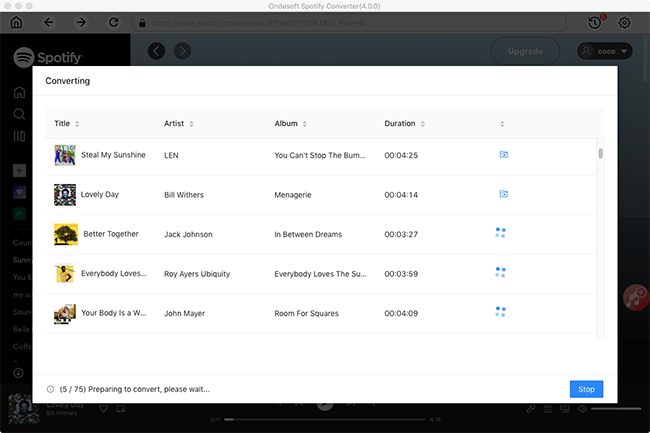 Part 2 How to transfer Spotify music to Roku?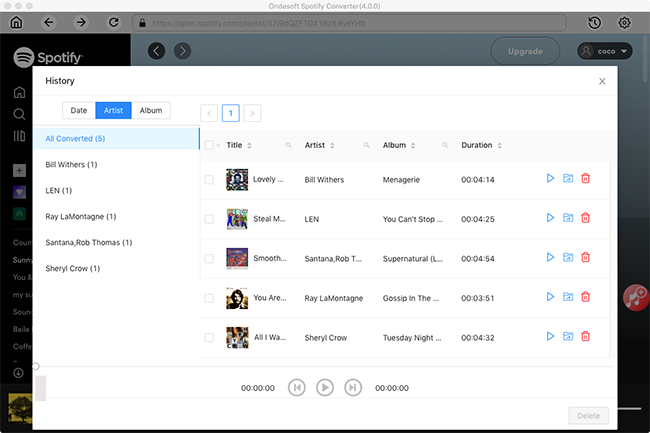 1. Select the media type from the Media Type Selection
2. Choose the device that has the content you wish to play.
3. Navigate through your folders to find the content you wish to play.
4. When you find the content you wish to play press Select/OK or Play.
5. While playing, you can pause, skip forward and skip backwards using the Play/Pause, Forward and Rewind buttons on your Roku remote control. Note: Not all files support fast-forward and rewind.
6. To stop playback, press Back.
Related reading: Spotify Free vs. Premium Comparison