How to Listen to Audiobooks on an Amazon Echo Device
If you're an Audible subscriber or have bought or downloaded any audiobooks through Audible, you can listen to those through your Echo.  When listening to a book, you can control the reading by telling Alexa when to pause, resume, move forward, go back, or change volume.
1. Open the Alexa app on your mobile device. Tap the Play icon at the bottom of the screen.
2. Swipe down the Music & Books screen, and tap the "See All" link for the Audible Library section.
3. Tap the name of an audiobook to start listening to it through your Echo device. Choose the Echo device on which you want to hear the audiobook. You can also tell Alexa to trigger the book by saying "Alexa, read [title of book] from Audible."
But how to play iTunes audiobooks with Amazon Echo?
Listen to iTunes Audiobooks on an Amazon Echo via Bluetooth
Stream From Your Phone Via Bluetooth
To play itunes music on Amazon Echo via Bluetooth, you need to pair your device to Echo. With your phone or tablet nearby, say "Alexa, pair," and your Echo goes into pairing mode.
Open the Bluetooth settings screen on your device and wait for the Echo to show up in the list of devices available for pairing. It should appear as Echo-XXX. Tap the name to connect your device with the Echo. Once the two devices are connected, Alexa will announce the connection.
Stream From a Computer
You can stream music from your computer to your Echo device. Let's use a Windows 10 computer as an example. Make sure Bluetooth is enabled on your PC. Go to the Amazon Alexa page and sign in with your Amazon account. Navigate to Settings and click the name of your Echo device.
Select Bluetooth and click Pair a New Device to link the computer with your Echo. When your computer appears in the list of devices to be paired, select it. You should then receive a notification in Windows 10 asking to pair the device. Click Allow. After the pairing completes, close the Pair Device window.
Now you can play music from iTunes, Windows Media Player, or any other audio program on your PC and hear the sound piped through your Echo.
Method 2: Use My Media for Alexa
My Media for Amazon Alexa lets you stream your local music library to your Amazon Alexa device such as the Echo or Dot. After installing the app on your computer, it will index your media and let Alexa respond to commands such as "Alexa, ask My Media to play audiobook xxx".
Here's how to set it up:
1. Download My Media for Alexa , run the installation file, and go through the setup process.
2. In the My Media for Alexa Console, click the green Next button, sign into your Amazon account and select Allow on the next page.
3. Select Watch Folders on the left sidebar, then hit the Add Folder button. Select the folder or folders where your songs are stored.
4. Install the My Media skill for Alexa, either directly through the web or by searching for "My Media" under the Skills section of the Alexa mobile app.
However, iTunes audiobooks are in DRM-protected M4B format, you need to convert them to DRM-free M4A or MP3 format. Follow below steps.
1. Launch Ondesoft Audible Converter
Download, install and run Ondesoft Audible Converter for Mac or Ondesoft Audible Converter for Windows. It will automatically load all audiobooks in your iTunes library .
2. Select M4B audiobooks you want to convert
Tick the checkbox before the audiobook you want to convert. Choose output format from: MP3, M4A, AC3, AAC, AIFF, AU, FLAC, M4R and MKA. Set output audiobook quality. Original metadata information will be preserved. You can also customize them.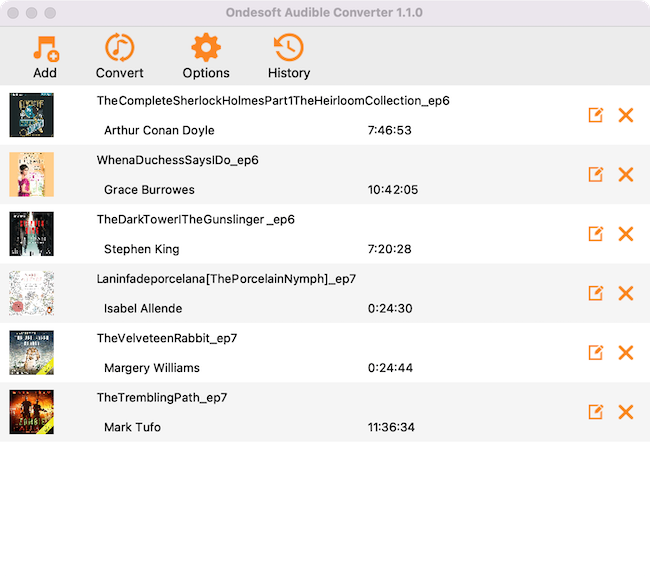 3. Click Start Convert button to convert M4B audiobooks
Click Convert button to start removing DRM from M4B audiobooks and convert M4B to MP3, M4A, etc. After conversion, you will get the DRM-free audiobook to play them anywhere you want.