How to play Apple Music on Amazon Echo/Echo Dot?
Jan. 6, 2021 Updated
Amazon Echo is a flagship smart speaker that connects to Alexa to play music, set alarms and timers, answer questions, control smart home devices, and more. With it, you can voice control your music - Stream songs from Amazon Music, Apple Music, Spotify, Sirius XM, and others. Here we will show you 2 ways to play music from Apple Music with Amazon Echo.
Provided you have an active Apple Music subscription, if you don't, check this guide .
Option 1: Play Apple Music on Amazon Echo with Alexa
If you subscribe to Apple Music and you have an Amazon Echo with Alexa enabled, you can play songs, artists, playlists, and more from ‌Apple Music‌ or playlists from your Library with the smart speaker.
How to Set Up ‌Apple Music‌ on Amazon Echo:
1. Launch the Amazon Alexa app on your iPhone or iPad.
2. Tap the menu icon in the upper left corner of the screen.
3. Tap Settings.
4. Tap Music under Alexa Preferences.
5. Tap Link New Service .
6. Tap ‌Apple Music‌ .

7. Tap Enable to Use .
Follow the onscreen instructions to sign in with your Apple ID.
After you link Apple Music to your Echo device, say something like "Alexa, play Reggae on ‌Apple Music‌," or "Alexa, play Lana Del Ray on ‌Apple Music‌."
However, Apple Music for Alexa is available only in Austria, Australia, Brazil, Canada, France, Germany, India, Ireland, Italy, Japan, Mexico, New Zealand, Spain, United Kingdom, and United States . If you are not in above countires, you can't play Apple Music with Alexa.
Option 2. Play Apple Music on Amazon Echo via Bluetooth
Amazon Echo is Bluetooth-enabled so you can stream popular audio services (like iTunes or Google Play Music) from a mobile device (such as your phone or tablet) or computer. The following steps will show you how to use Amazon Echo to play Apple Music via bluetooth.
Before you begin
• Set your mobile device to Bluetooth pairing mode.
• Make sure your mobile device is in range of your Echo.
1. Say, "Pair." Alexa lets you know that Echo is ready to pair.
Note: To exit Bluetooth pairing mode, say, "Cancel."
2. Open the Bluetooth settings menu on your mobile device, and select your Echo. Alexa tells you if the connection is successful.
3. Navigate to your Music application where your Apple Music are accessible and start playing them.
You are now ready to play your Apple Music from your mobile device to Amazon Echo.
If you choose the bluetooth option, you can even play Apple Music on Amazon Echo without subscription. Just download Apple Music songs/albums/playlists to mp3 with Apple Music downloader . Follow below steps:
1. Download and Launch Apple Music Converter
Download, install and launch Ondesoft Apple Music Converter on your Mac or Windows.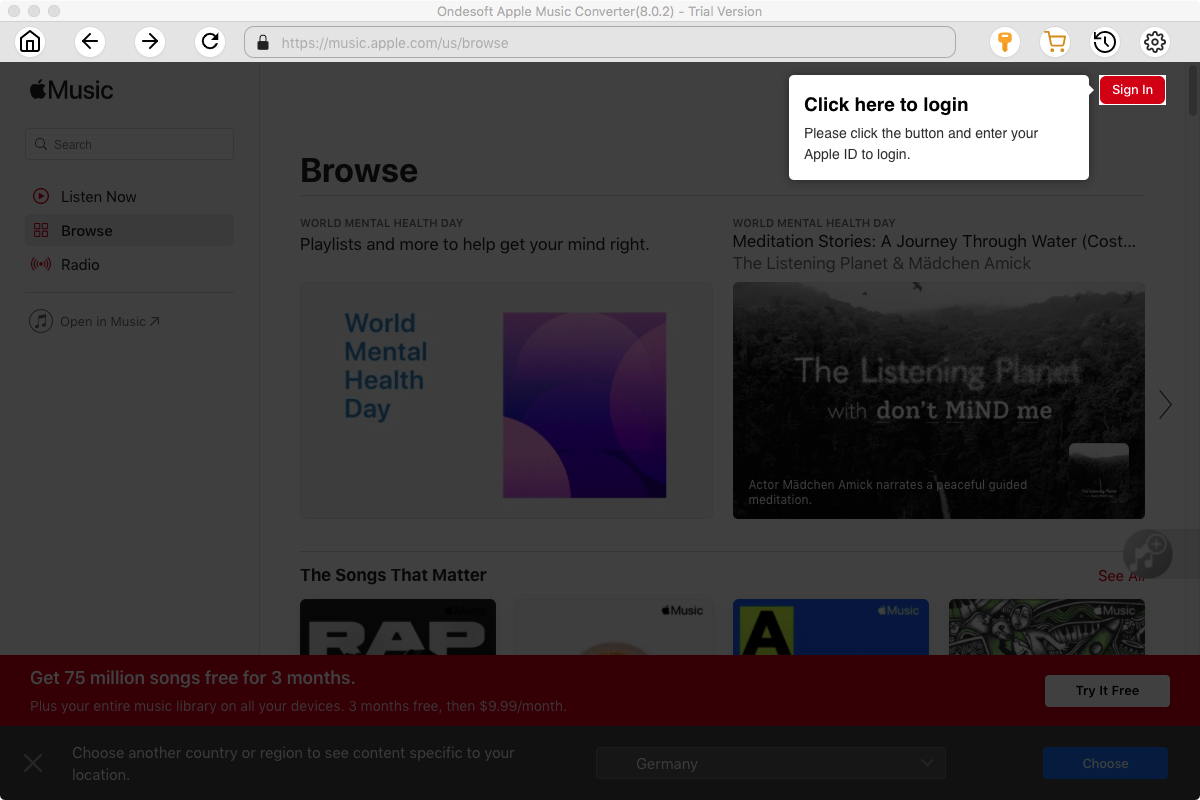 2. Sign in your Apple Music account
Click the Sign in button and enter your Apple ID.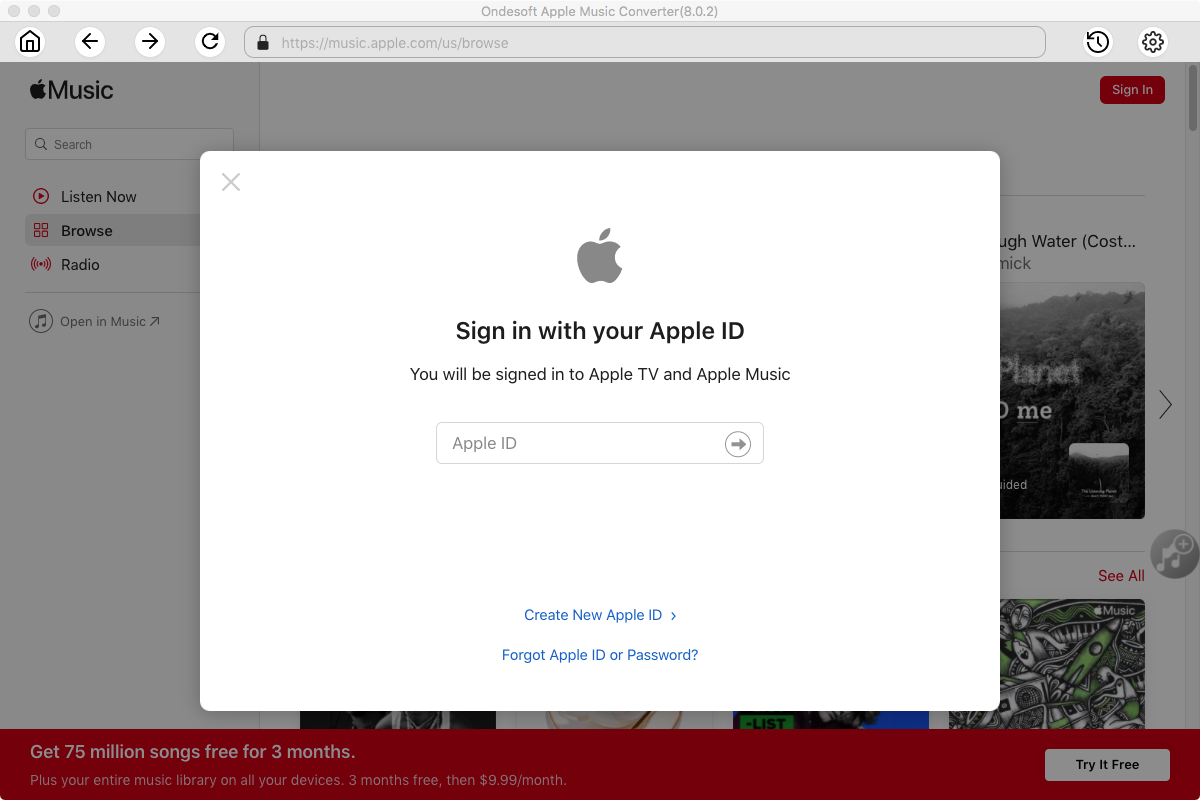 3. Change output format(optional)
The default output format is lossless M4A. Ondesoft Apple Music Converter also supports converting Apple Music to MP3, AAC, FLAC, WAV and AIFF. You can also customize output file name with any combination of title, artist, album, playlist index and track ID.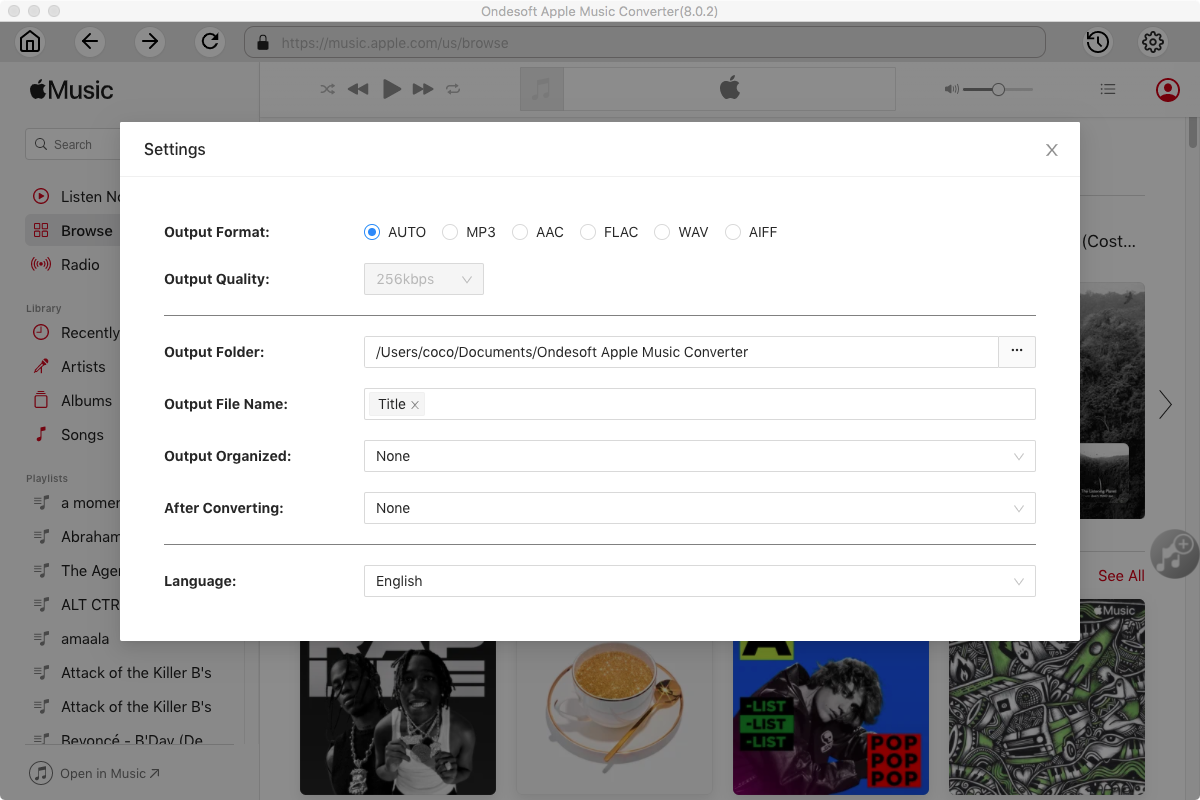 4. Select music
Follow the on-screen instructions to choose the playlist or album you want to convert.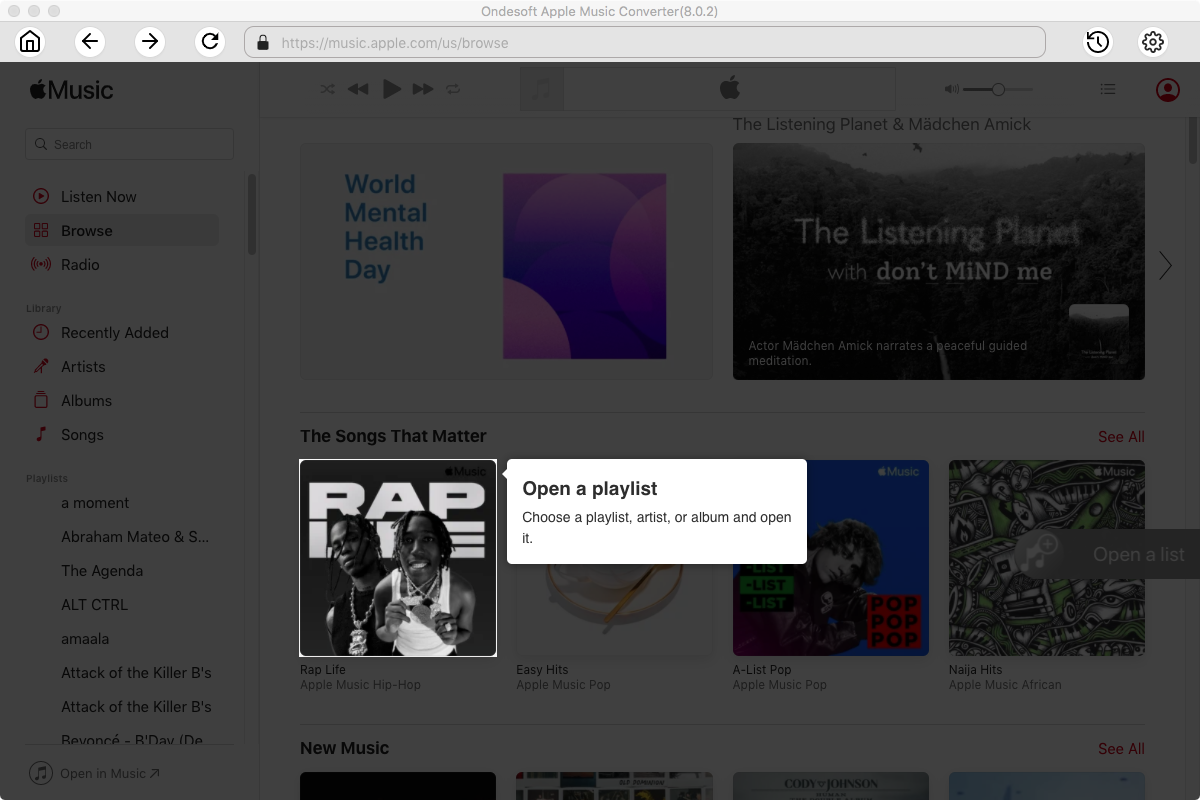 Click Add songs.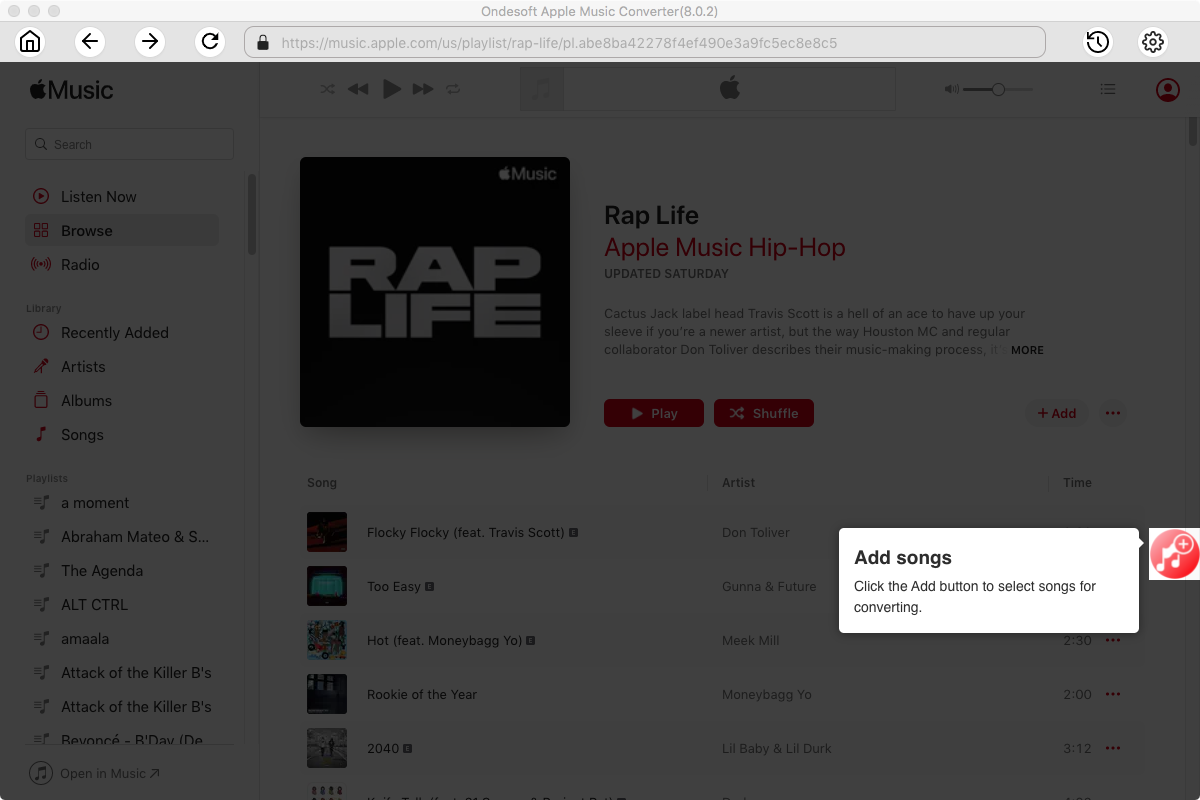 5. Start Conversion
By default, all songs in the playlist/album will be checked. If there are songs you don't want to convert, please uncheck the box. Then click Convert button to start downloading songs to the format you choose.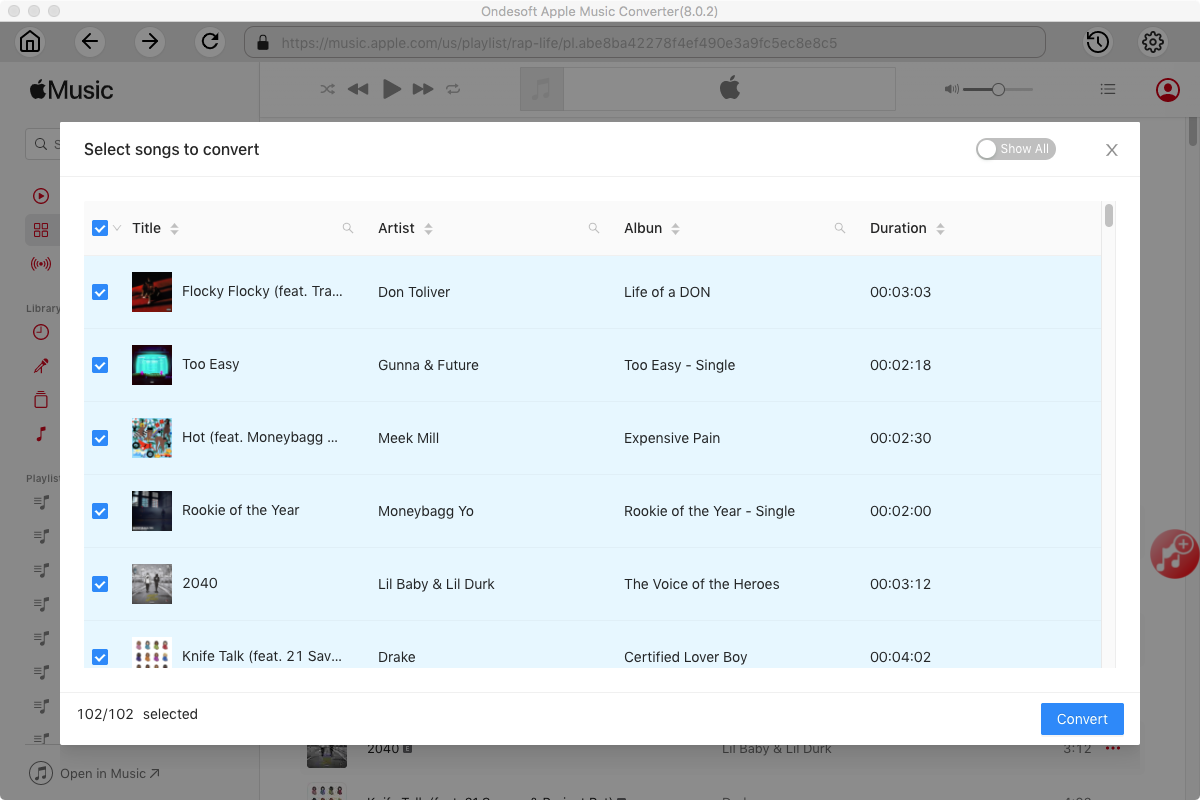 After conversion, click below folder icon to quickly locate the downloaded songs.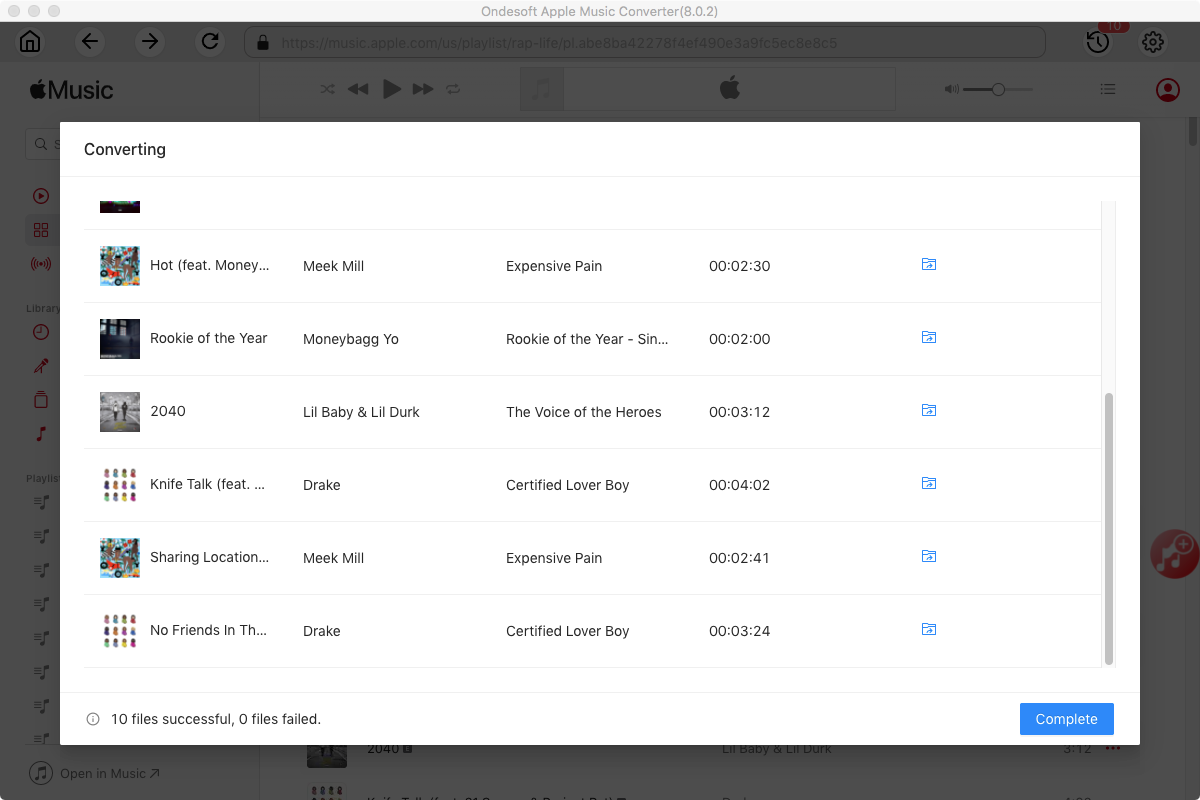 6. Stream to Echo via Bluetooth
Make sure Bluetooth is enabled on your computer. Go to the Amazon Alexa page and sign in with your Amazon account. Navigate to Settings and click the name of your Echo Device.
Select Bluetooth and click Pair a New Device to link the computer with your Echo.
Select your computer when it appears in the list of devices to be paired. And then click Allow.
Now you can play the downloaded MP3 Apple Music songs from iTunes, Windows Media Player, or any other audio program on your computer and hear the sound piped through your Echo.
Free trial version of Apple Music converter allows you to convert each song for 3 minutes, purchase a license to remove this limitation.
If you want to convert Spotify music to MP3 , try Ondesoft Spotify Music converter .