Apple Music Converter For Diehard Music Lovers
---
Are you a music lover too? Still letting your Apple apps limit your access to music? It is quite obvious that a music lover will want to carry their music around everywhere. Whether you are working out, or on a far-away vacation with no network connection. To break-free of all restraints, Ondesoft Apple Music Converter is of immense help. No doubt, all the Apple apps come with a wonderful interface and smooth functioning. But what the users might feel is a flaw is dependability on internet connection and limited accessibility. Apple Music, for one, does not enable downloading the music and playing it on another device. This app helps to convert Apple Music to MP3 without much effort.
Features of Apple Music Converter
All the content on Apple Music is protected with Digital Rights Management (DRM). This calls for violation if the content is downloaded without permission. But with this application, DRM protection can be removed from M4P music legally and music can be downloaded through Apple Music Downloader without any problems. Also, the conversion is quite smooth and easily accessible & understandable.
Apple Music Downloader feature helps to download the music from the music app into the device of the user. It enables download of the vast collection of songs available on Apple Music to MP3 format and can be universally played anywhere. It also can be stored and saved for unhindered use in the future. Now you can play the music on your iPod nano, or sandisk MP3 player easily.
You can download the audios from Apple Audiobooks, Audible Audiobooks and songs from iTunes Music and Apple Music to MP3 format as well. This expands the store of your MP3 collection and nothing can hold you back from listening to your books, or songs at any time and place.
Another amazing feature is that you can convert Apple Music to MP3 format along with a number of other formats. The application supports conversion into other formats like MP4, M4A, AC3, AAC, AIFF, AU, FLAC, M4R, MKA. This is a huge list to choose from and surely is compatible with any device you're running. 
Once you have the Apple Music Converter, you can download your music anytime and carry it anywhere. This means that you will have endless access to music even though you want to cancel your subscription at any point of time. So, you don't have to keep paying for a service you don't need anymore.
When you convert and download the songs through Apple Music Downloader, you are at liberty to customise the output song settings and change the filename as you desire. There are many songs that you recognise by lyrics and not by name. Such a music lover doesn't want to go by standards and wants customisation, from which, this application can help.
Apple Music Downloader feature does not disrupt the quality of the songs. The sound quality & continuation stay as intact as it was on Apple Music or Audible Audiobooks and the audios are downloaded super fast. There are no cracks or damages that make user experience any less than excellent. So, you can keep listening without worrying about the quality issues.
Supports Both Apple Mac and Windows
Ondesoft Apple Music Converter works well on both Mac and Windows devices. It is not necessary to have an Apple device to have access to this application. The songs can be downloaded, stored and converted in any Windows device as well as any Mac device. This further helps you to carry your music around, no matter what device you are operating from. Windows users sometimes feel deprived of the music collection on Mac devices. But this app bridges this gap effectively.
Why Use A Converter?
This question must strike you through this time. Why should you go out of your way to download and use an Apple Music Downloader and Converter? The answer to this question is quite simple and can be answered in three aspects.
Access to Apple Music Without The App Itself
You don't need to have access to Apple Music or iTunes at all times if you work smart and have a converter on your device. These music apps require a subscription which not everyone wants to take. You can rather access it for a limited time and download the songs of your choice through a converter and Apple Music Downloader.
MP3 Device Compatibility
A lover of music does not have only one device he listens to music on. Then why to rely on an app that runs only on one device? Certainly not. With a converter, you can convert AA/AAX audiobooks, iTunes & Apple Music DRM protected M4P/M4B songs, all into MP3 which is universally compatible and expands your access to each & every device of your liking.
Convert Into The Format You Like
In addition to converting Apple Music to MP3, it can be converted to many more file formats including MP4, M4A, AAC, AC3, M4R, etc. You can also rename and edit the file specs as you like to identify the files in your device.
Onesoft Apple Music Converter- Key Takeaways
Ondesoft Apple Music Converter does not infringe any copyrights and downloads DRM protected songs legally. It preserves the ID3 tags as well as the content quality no matter what.
Another attraction of this particular application is that as mentioned, it supports both Windows and Mac/Apple devices. This has helped Windows users to access Apple music services, and with ease.
The application offers 16x conversion speed, which is very fast and accelerates the whole process, so less time is consumed. It helps maintain the users' satisfaction and adjusts to their pace.
It is an all-in-one app which has a converter as well as Apple Music Downloader. It makes sure you don't miss out on any experience.
It also enables effortless synchronization with iTunes library. When launched, it adds additional options to your iTunes app to convert & download, and enables accessing them simultaneously. This means that the hassles are removed greatly.
Apple Music Converter has an eye for real music lovers and has an interface suited to their zeal and converts Apple Music to MP3 diligently. You can try it today on your Mac or Windows device and you will feel the difference instantly. It is the best thing that could happen to a music enthusiast.
Follow below steps and learn how to download Apple Music songs to MP3, M4A, etc. for Sony Walkman.
1. Download and Launch Apple Music Converter
Download, install and launch Ondesoft Apple Music Converter on your Mac or Windows.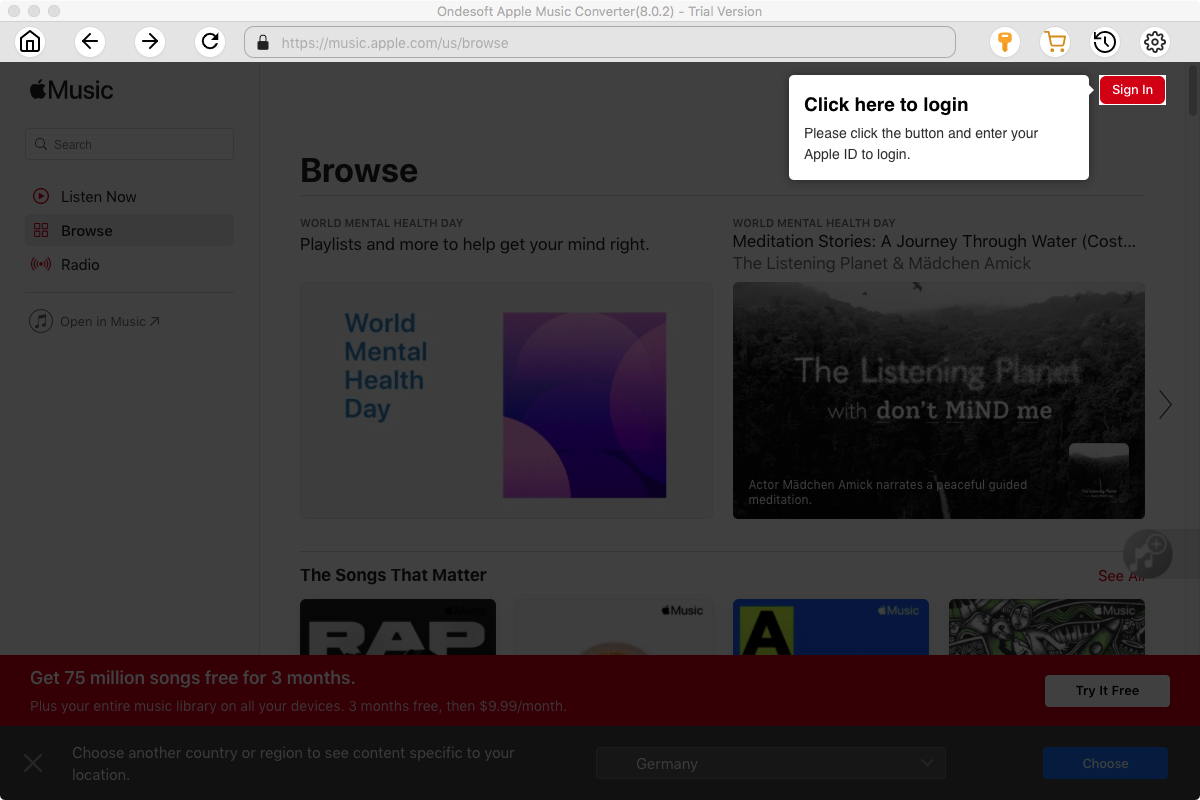 2. Sign in your Apple Music account
Click the Sign in button and enter your Apple ID.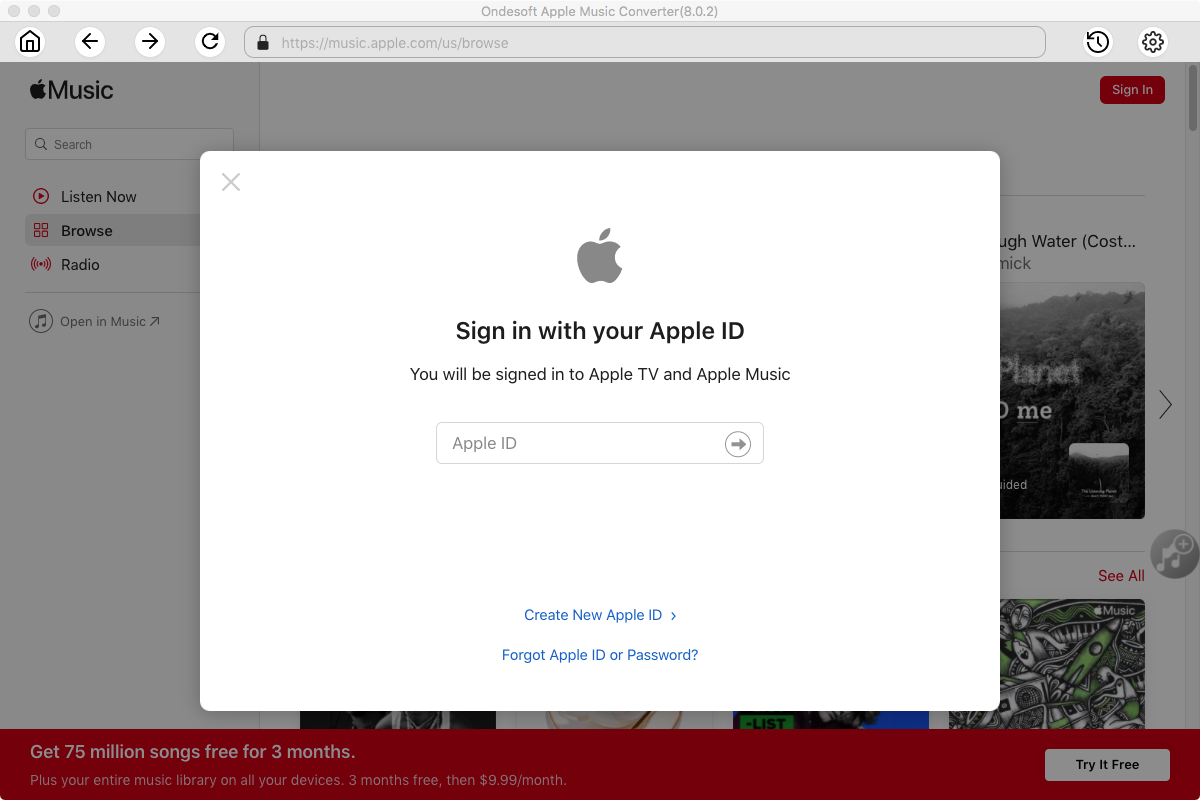 3. Change output format(optional)
The default output format is lossless M4A. Ondesoft Apple Music Converter also supports converting Apple Music to MP3, AAC, FLAC, WAV and AIFF. You can also customize output file name with any combination of title, artist, album, playlist index and track ID.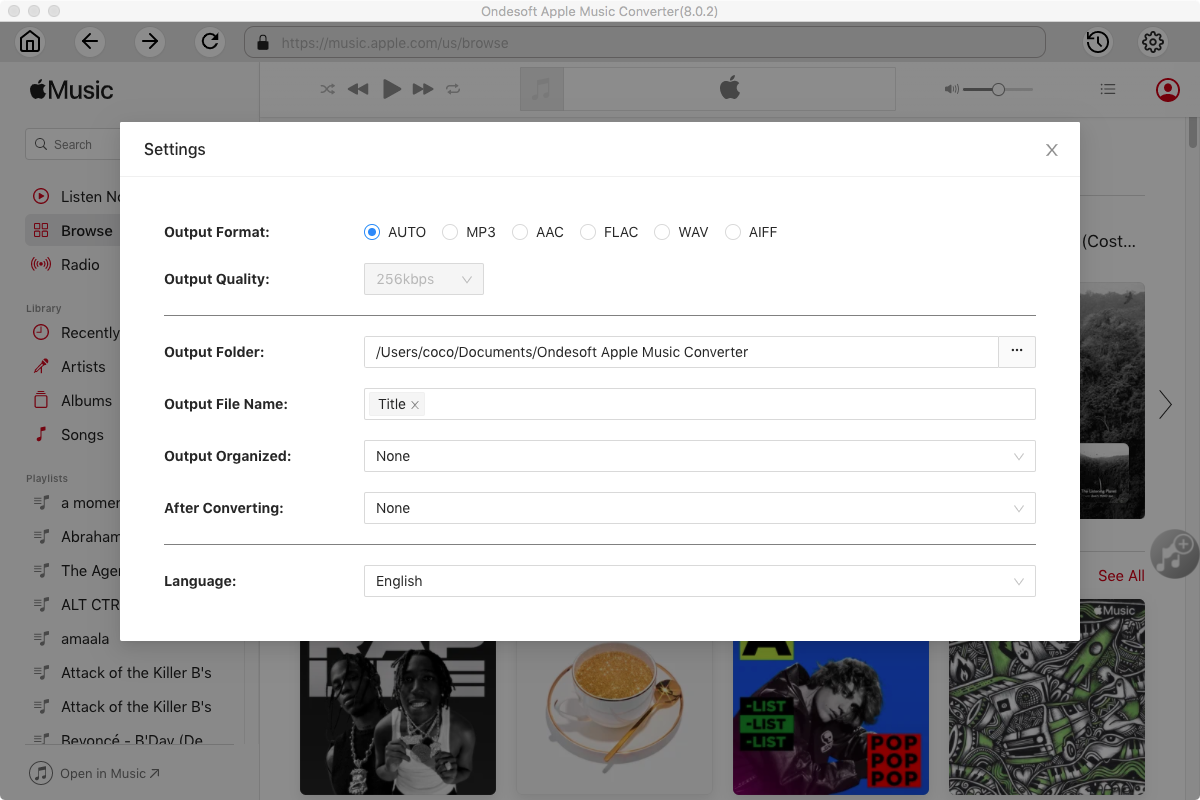 4. Select music
Follow the on-screen instructions to choose the playlist or album you want to convert.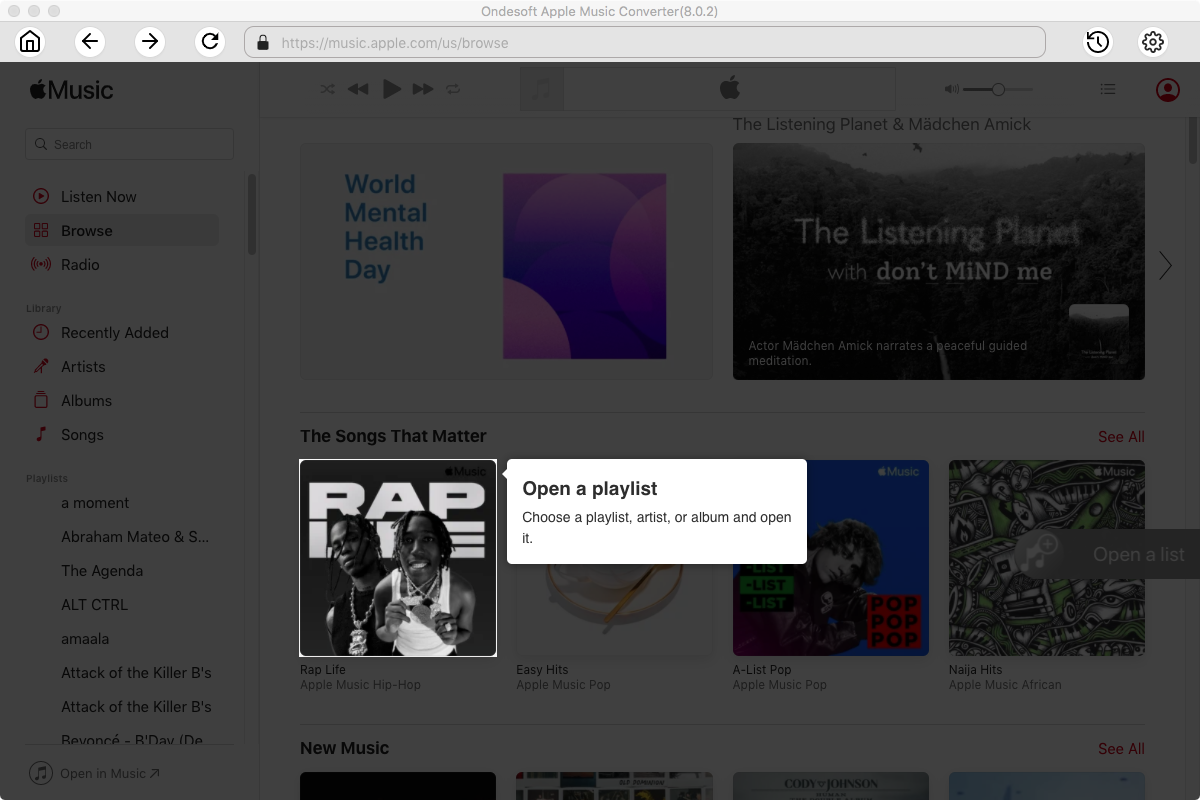 Click Add songs.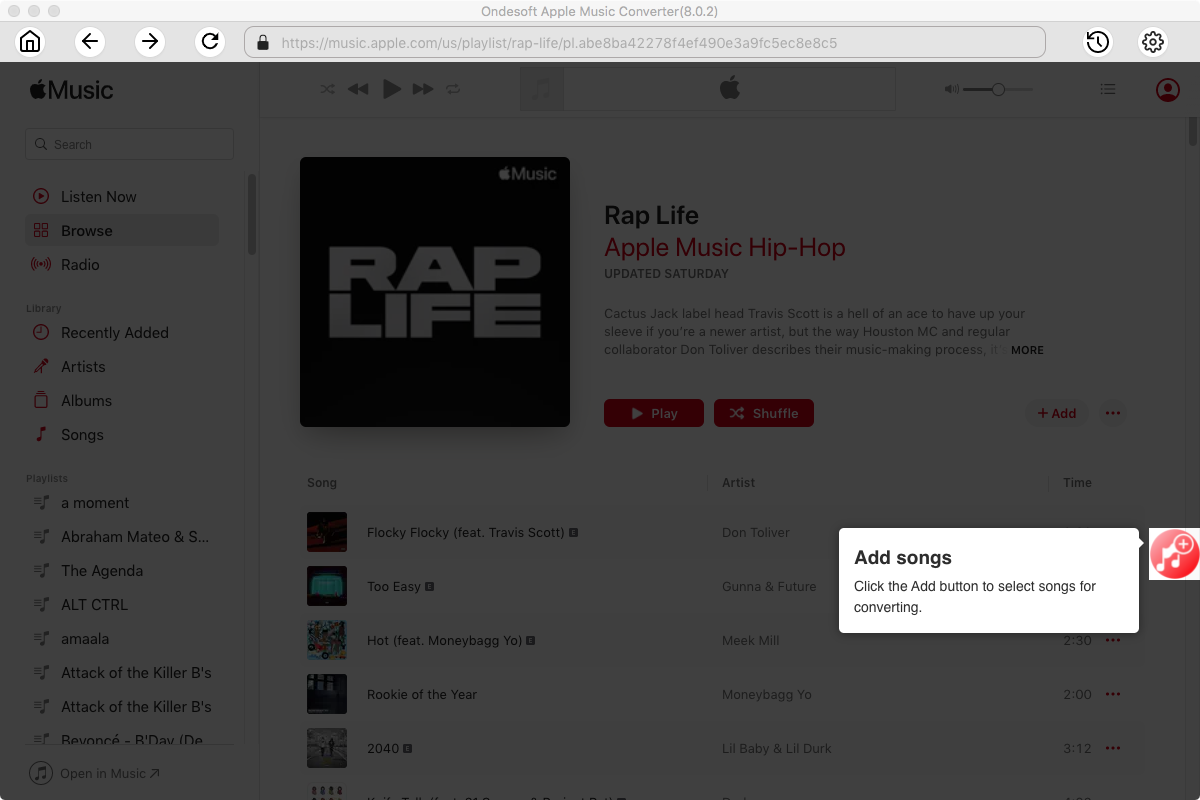 5. Start Conversion
By default, all songs in the playlist/album will be checked. If there are songs you don't want to convert, please uncheck the box. Then click Convert button to start downloading songs to the format you choose.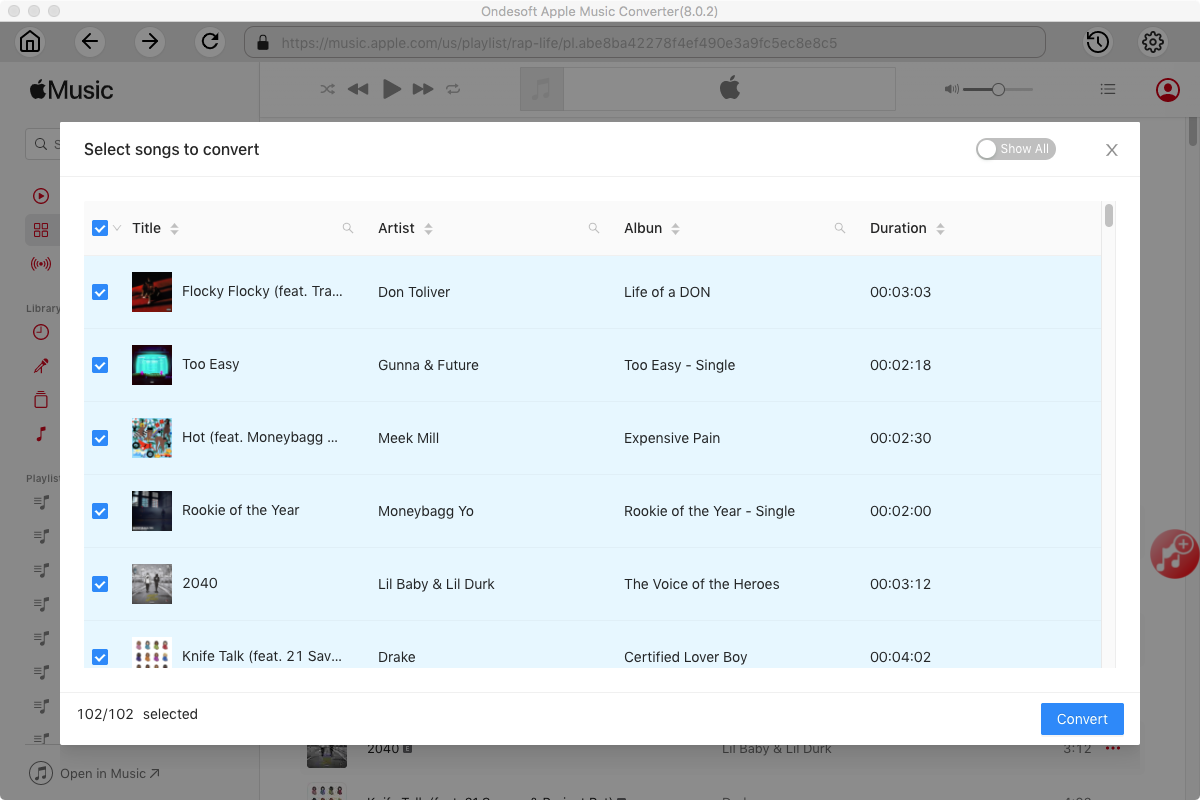 After conversion, click below folder icon to quickly locate the downloaded songs.