Listen to Spotify music on iPod Nano
"Can I sync my Spotify offline playlists to iPod nano? I know how to sync local songs to iPod nano with Spotify, but it won't allows me to sync Spotify playlists even though I have made them offline available." Do you have the same confusion?
In fact, Spotify music is DRM protected. When you download Spotify music, you just make them offline available, not download actual files, so you can't transfer them to iPod nano. However, there is one kind software called Spotify to MP3 converter , which allows you to quickly convert any Spotify music to mp3 songs . Then you can play the mp3 Spotify songs on your iPod nano. Here we will introduce you Ondesoft Spotify Music Converter, which is famous for removing Spotify DRM and converting Spotify music to DRM-free formats like, MP3, M4A, WAV and FLAC without quality loss.
Related: Listen to Spotify on iPod shuffle
Sync Spotify music to iPod nano?
When you google "Sync Spotify music to iPod nano", you will still find top articles on this, but don't be misled. These articles are talking about "syncing your local music to iPod nano using Spotify, just like using iTunes." It's not about syncing Spotify songs to the iPod. What's more, syncing local music to iPod is an old feature of Spotify desktop app and no longer available. The titles of these articles are misleading and outdated.
Is there Spotify app for iPod nano?
Unfortunately the answer is no. According to Spotify, the app is availeble on below devices: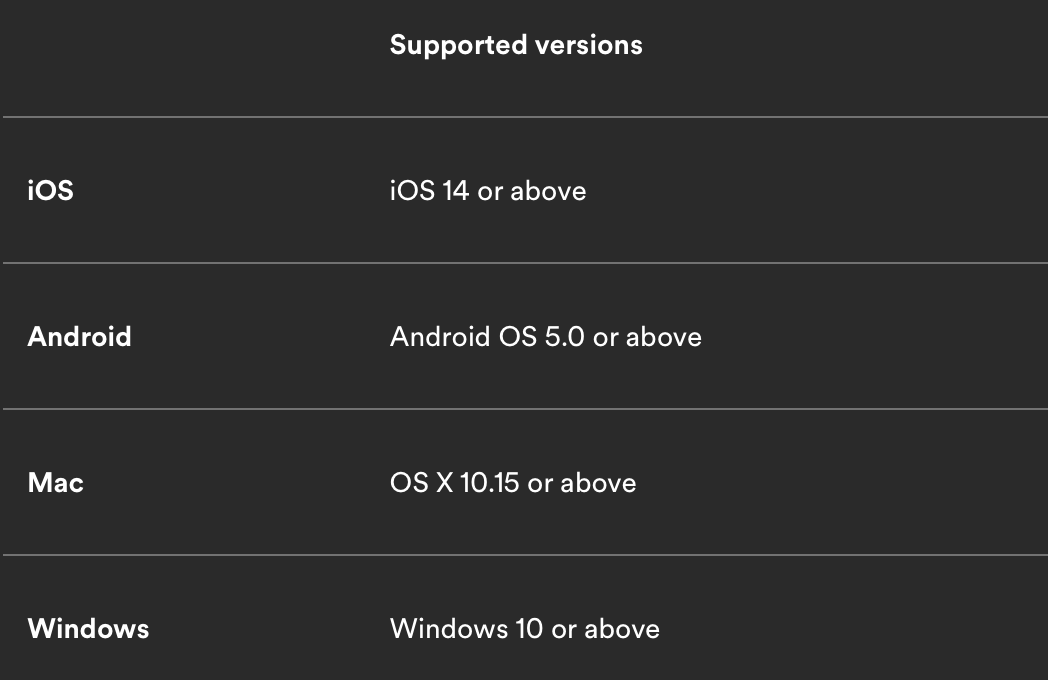 iPod nano is not on the list.
How to play Spotify music on iPod nano?
Although there is no Spotify app for iPod nano, there is still other ways for you to enjoy Spotify music on iPod nano. The easiest way is to download Spotify songs to mp3 and them sync them to iPod nano with iTunes. Ondesoft Spotify Converter is a professional Spotify music downloader that allows you to easily download mp3 music from Spotify without premium . Follow below steps to download Spotify music to mp3. Before we get started, please make sure you have installed Spotify app on your computer.
Then download, install Ondesoft Spotify Converter on your computer.
Step 1 Add Spotify music to Ondesoft Spotify Converter
Run Ondesoft Spotify Converter, click the Add Files button on the upper left. You can simply drag and drop songs, playlists or albums from Spotify app to the interface or copy&paste relevant links from Spotify web player to the search box. Click the Add button.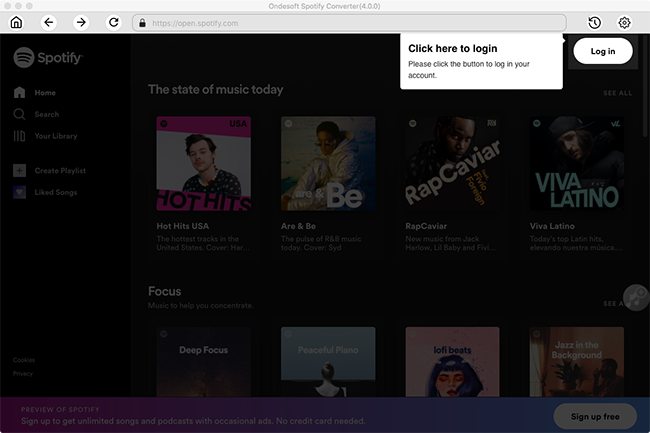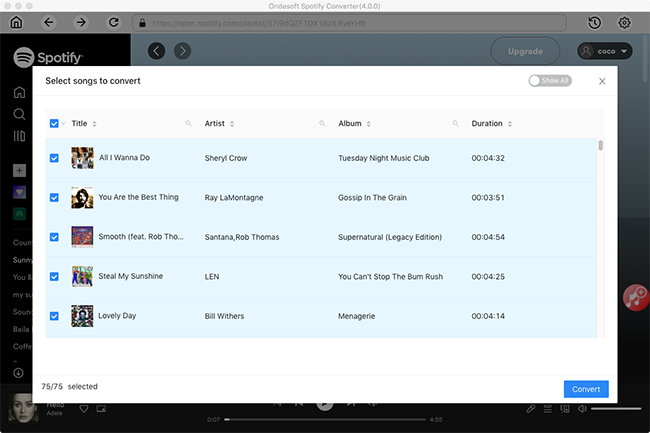 Step 2 Customize the output settings
The default output fotmat is mp3. Click Options if you want to change it. You can also customize the bitrate or sample rate as you need.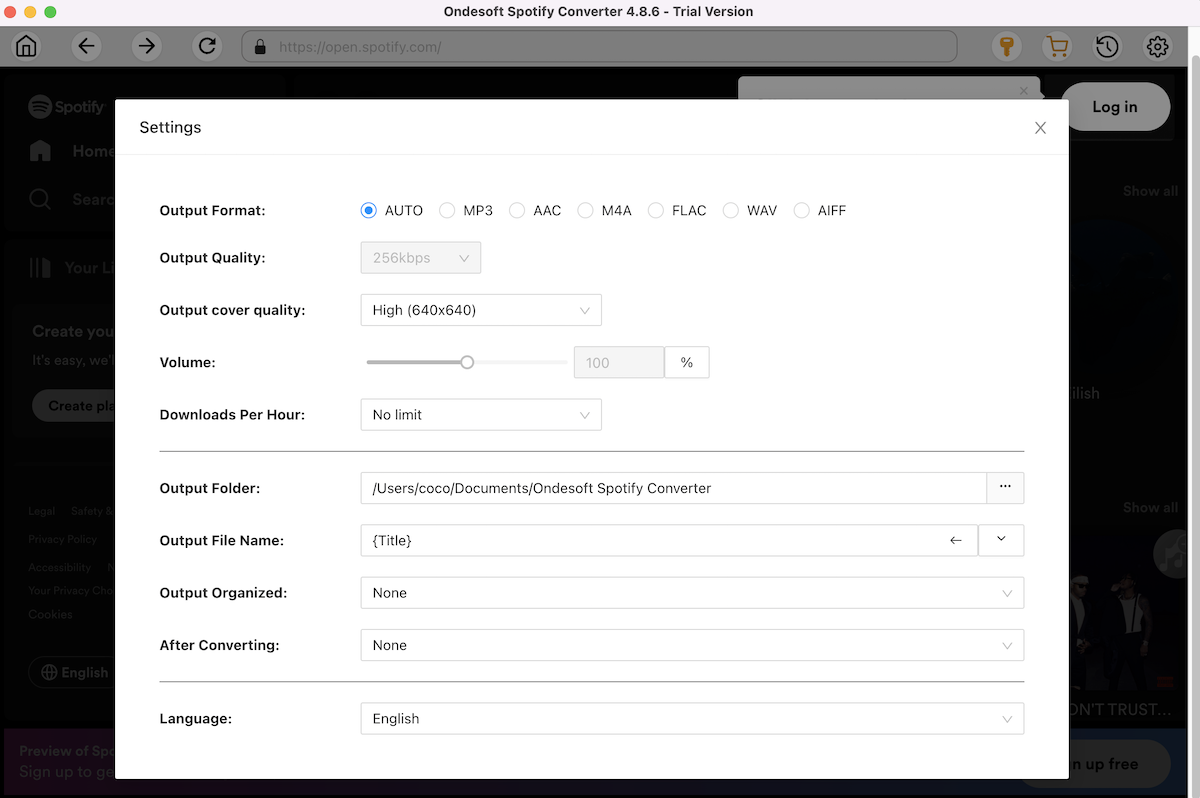 Step 3 Start Converting
When finish the customization, click the Convert button to start the conversion.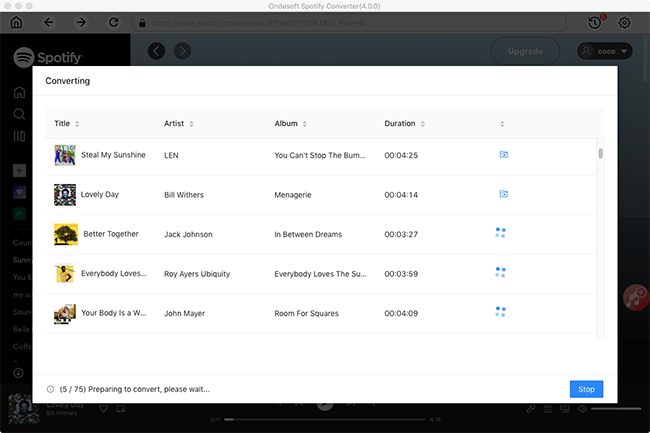 After the converting, you can get DRM-free Spotify music by clicking below folder icon.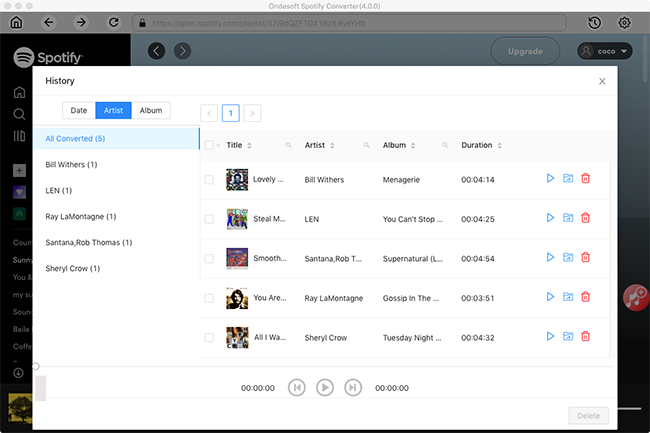 Step 4 Transfer converted Spotify music to iPod nano
Follow these steps to sync music from Spotify to your iPod:
1: Quit iTunes, if it's running.
2: Open Spotify.
3: Connect your iPod with your computer by using the USB cable.
Your iPod should appear below Devices in your Spotify window's left sidebar.
The first time you connect your iPod to Spotify, you'll be asked if you want to erase your iPod and sync it with Spotify. In subsequent syncs, you aren't asked to do this again as long as you continue using Spotify for your syncs.
4: Click Erase iPod & Sync with Spotify, if it appears in the Spotify window.
Two options appear at the top of the page after Spotify erases your iPod: Sync All Music to This iPod and Manually Choose Playlists to Sync.
5: Sync all your music to your iPod.
The iPod automatically starts syncing all your music because the Sync All Music to This iPod option is selected by default. Additionally, Spotify syncs your playlists, starred tracks and so on — but only tracks you've already bought are actually copied over.
6: Safely remove your iPod after the sync is complete.
Your iPod itself may also display a message warning you not to disconnect. When the iPod is properly ejected, make sure the warning message on the iPod disappears (it may take a few seconds).
7: After the warning message is gone, unplug your iPod.