2 Ways to transfer Spotify playlists to Apple Music
Spotify and Apple Music are the two most popular music streaming services. Many people wonder how to transfer playlist to the other when they switch between the two services. Is there anyway to transfer my Spotify playlists to Apple Music once I cancel Spotify subscriptions and subscribe to Apple Music?
The answer is yes, but you will need a third-party software. Here we will introduce you 2 ways to transfer Spotify playlists to Apple Music.
Option 1: SongShift
SongShift are easy-to-use app for you to quickly transfer your Spotify playlists over to Apple Music.
1. Download and Launch the SongShift app on your iPhone.
2. Tap Get Started - Spotify icon.
3. Enter your Spotify username and password and then tap Log in.
4. Tap Agree .
5. Tap the Apple Music icon and then tap Authorize to grant the app access to your Apple Musi library and set a token.
6. Tap OK - Continue. Tap the Spotify icon and select a playlist to transfer, then tap Continue.
7. Tap Destination and then select the Apple Music icon.
8. Tap Create New Playlist. In the Configuration screen, tap Destination and enter a custom name for the playlist as you'd like it to appear in your ‌Apple Music‌ library, then tap OK.
9. Tap Process and wait while the transfer or "shift" completes.
SongShift is only available on iOS . So if you don't have an iOS device running iOS 9.3 and later, you can't use the two apps to transfer Spotify playlists to Apple Music.
Stamp is also an iOS app that allows you to transfer playlists between Spotify and Apple Music. Install and run Stamp on iOS 9.3 or later, select Spotify as source and Apple Music as destination, select playlists and the transfer begins.
However, you may encounter below error: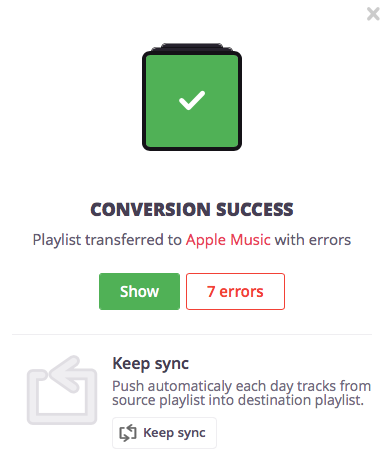 The error can't be fixed since these songs can't be found in Apple Music library.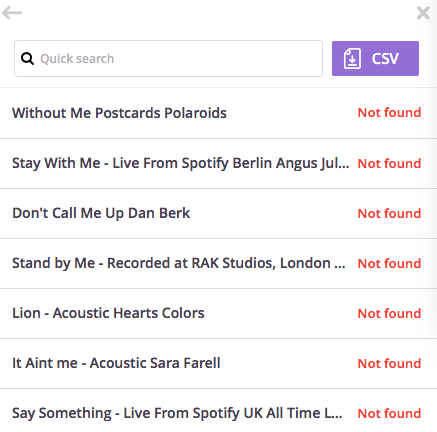 Option 2: Ondesoft Spotify Converter
The safest way is to download Spotify playlists as local music and then import to Spotify. In this way, you won't lose any songs.
Ondesoft Spotify Converter transfers Spotify playlists to Apple Music by exporting Spotify playlists to mp3 song and then add to Apple Music manually. The Spotify playlists are imported to Apple Music as your local music, so they won't disappear once Apple removes that songs from its library. All songs in the playlists will be transferred without failure. Spotify music are DRM protected and even though you download to your computer with premium subscription, you can't transfer them anywhere since they are DRM protected. So we need a Spotify DRM removal software to convert Spotify playlists to plain formats such as MP3. That's why you need Ondesoft Spotify Music Converter.
Ondesoft Spotify Music Converter is developed for Spotify free and premium users to remove Spotify DRM and convert Spotify playlists to MP3, M4A, WAV and FLAC. Then you can transfer Spotify playlists to Apple Music or anywhere else.
Tutorial on how to import Spotify playlists to Apple Music with Ondesoft Spotify Converter.
Please make sure you have installed Spotify app and iTunes(Music app) on your computer.
1. Download and install Ondesoft Spotify Converter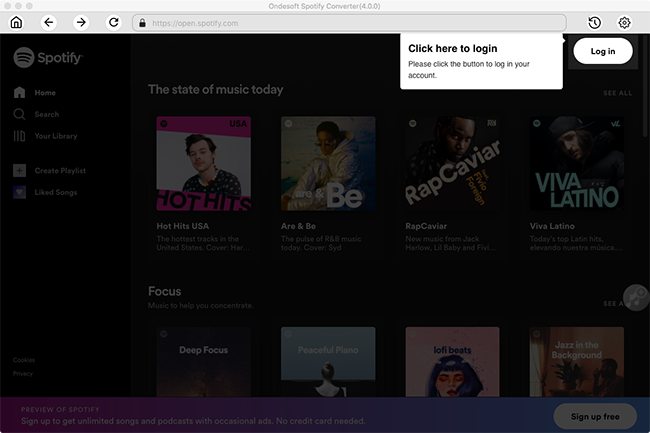 2. Add Spotify playlists to Ondesoft Spotify Converter
When you open the converter, Spotify will open automatically. You are able to drag&drop playlists from Spotify to Ondesoft Spotify Converter directly. If you are using Spotify web player, click Add Files and copy&paste the playlist link to the bottom of the interface. Then click the Add button to import songs.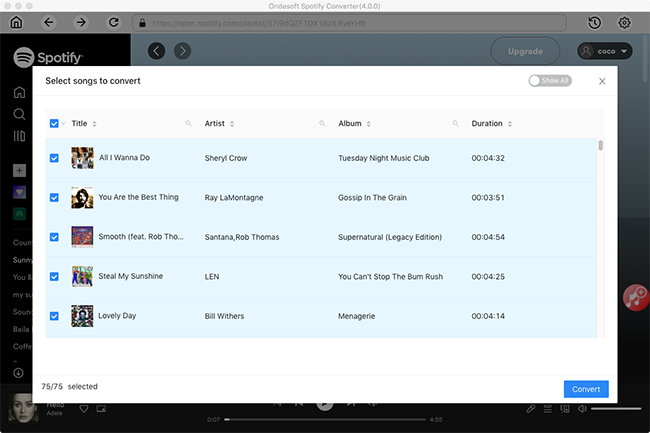 3. Start converting Spotify playlist
After you import songs, you can change the output format by clicking the Options button. The default format is mp3. It also supports m4a, wav and flac.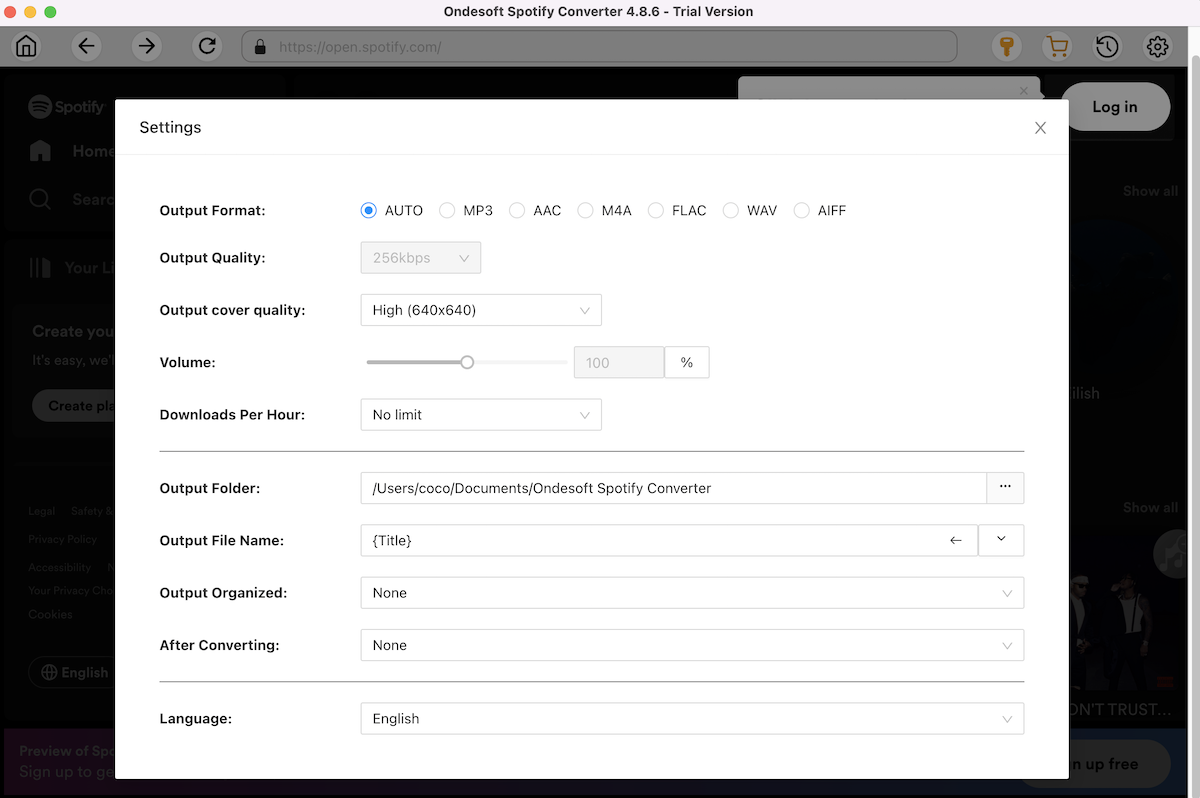 Then Click the Convert button, it will start the conversion.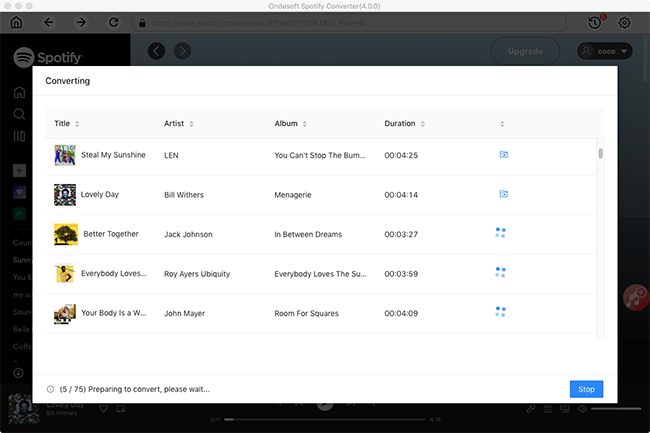 4. Import Spotify playlist to Apple Music
After conversion, click below folder icon to quickly access the DRM-free Spotify songs.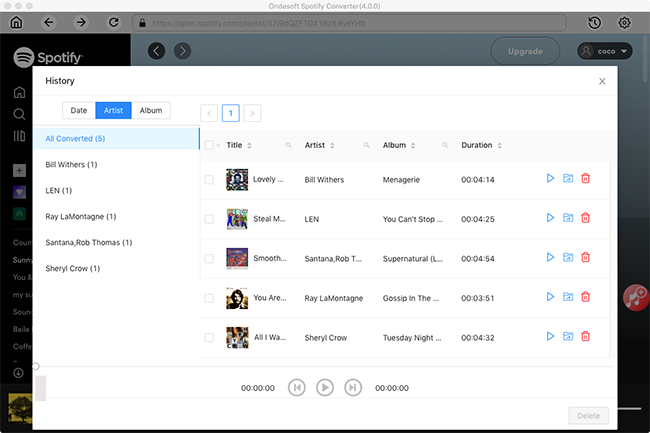 Run iTunes and click File - Add to Library, locate this output folder and click Open. All songs in the Spotify playlist will be added to iTunes songs library immediately. You can also access them on your tablet or mobile with Apple Music app.