SoundCloud vs. Spotify: a side-by-side comparison
SoundCloud and Spotify are two of the biggest audio streaming sites on the internet today. They are both excellent platforms, so it is difficult to say which one is better. But each platform offers a different streaming experience for its users. Here we put the two biggest music streaming platforms head-to-head to find out.
Spotify is a music streaming platform and it's designed to give fans access to an unlimited catalog of music. While SoundCloud is a music publishing platform whose goal is to help up-and-coming artists release their tracks and introduce their music to massive numbers of highly dedicated fans and fellow artists. Despite increasing competition, Spotify is still hands-down our favorite music streaming service.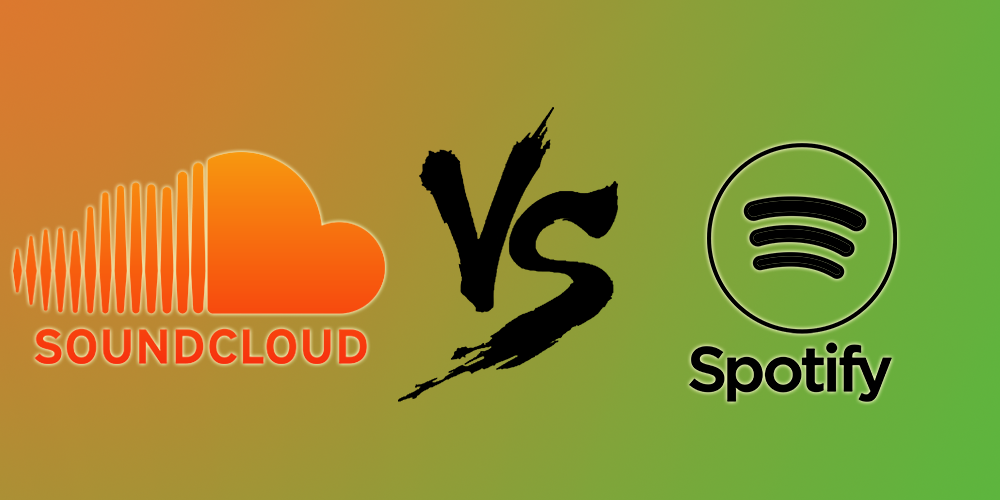 Music Libraries and Audio Quality
The Spotify free version serves audio and banner ads as you listen at 160Kbps, manage your digital music files, and connect with others using the built-in social networking features. The $9.99-per-month Spotify Premium gets you unlimited access to the 30 million-plus track library, lets you hear select albums before they're released, play songs on demand, and cache songs for offline playback on your computer, phone, or other devices. It also increases audio quality to 320Kbps. -- How artists upload songs to Spotify?
Currently, SoundCloud library has about 125 million of songs, all of them uploaded by users. It announced SoundCloud Go, a new premium music streaming service that aims to compete with Spotify, Apple Music, and other similar apps.  It is free, you can also cost $10 per month for the Premium account. When an artist uploads a track to SoundCloud, it converts all audio to 128kbps audio files to accommodate their streaming system. This is low comparatively to competitors such as Spotify, Apple Music, and Google Play Music.
Music Discover Ability
Spotify has a huge range of curated playlists, sorted by genre, mood, activity and popularity. Its Daily Mixes are put together specifically for you by the magic pixies at Spotify HQ and offer six genre-specific playlists that will continue running for as long as you let them. You can tell it if there's something included that you don't want to hear again, or add anything you particularly like to your library. With Spotify, you get the amazing Discover Weekly playlist that knows your taste to a scarily accurate degree and brings you 30 fresh tracks each week.
The advantage that SoundCloud offers over Spotify is the user-generated content. If you want to hear podcasts, remixes, or music from independent artists (or even just people who record an occasional song for fun), you can use SoundCloud. But SoundCloud Go is missing several big-name artists, such as Rihanna, Justin Bieber, and Kayne West.
Platform
You can get Spotify on Android and iOS smartphones and tablets, PCs, Macs and games consoles, plus it also works in a web browser.
SoundCloud offers two mobile apps; the main SoundCloud app is oriented towards streaming, with music discovery, playlist, and sharing features. A separate app known as SoundCloud Pulse was released for Android and iOS. SoundCloud also released desktop apps for Mac, Windows and Xbox One.
Social Sharing
Spotify combines music streaming and creating playlists, with sharing through other social platforms. Spotify allows its users to discover playlists and songs within these playlists, shared by other users through various media channels.
SoundCloud is a streaming platform that focuses on the idea of sharing your own audio content with listeners. Creators can quickly share a snapshot of plays, likes, reposts, and comments to any social media platform.
Which one is better?
Spotify has become synonymous with music streaming, so if you're looking for a service to subscribe to, it seems like the obvious choice. Its apps are widely available and well designed; the catalogue has no glaring omissions; and its music discovery features are streets ahead of the competition. Spotify is a better option for those that want to do less digging but can find popular playlists with exceptional ease. This site allows you to easily create playlists, discover new songs from others' playlists, as well as share music on various social platforms with friends and family. For those looking to find unique or exclusive songs for their playlists, SoundCloud is the clear choice.
Spotify free, ad-supported tier has long provided users with an easy way to access a giant library of streaming music. But Spotify's non-paying users can't save songs to their devices for listening when they're offline. How to break the above limitations? The best solution of enjoying free Spotify music without limitation is to use Ondesoft Spotify Converter . It downloads Spotify music by recording them through Spotify app with fast speed and output MP3/M4A/WAV/FLAC. The recorded songs will preserve 100% original quality and all ID3 tags. Follow the steps below to download Spotify music with Spotify Free subscription.
How to download Spotify Music with free account using Ondesoft Spotify Music Converter?
1. Download, install and run Ondesoft Spotify Converter
Please make sure you have installed Spotify app on your computer. Download, install and run Ondesoft Spotify Converter on your computer, then Spotify will be opened automatically.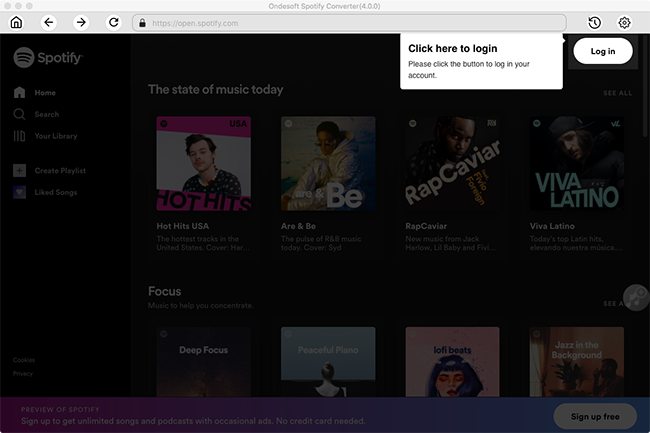 2. Drag Songs or Playlist from Spotify to Ondesoft Spotify Converter
You can click the Add Files button on the top-left. Then choose the songs or playlist you would like to convert in Spotify, and drag them to the main interface of Ondesoft Spotify Converter. Or you can copy and paste the relevant link from Spotify web player to the search box. Finally, click the Add button to finish adding songs.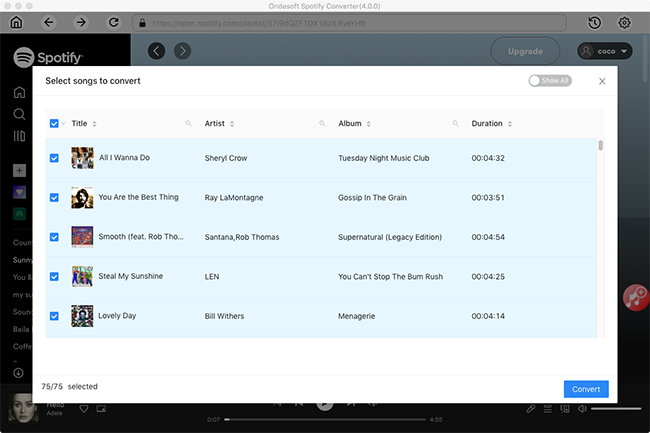 All songs in the albums will be checked by default. You are free to uncheck the tracks you don't want to convert. Then click Add to import all checked songs.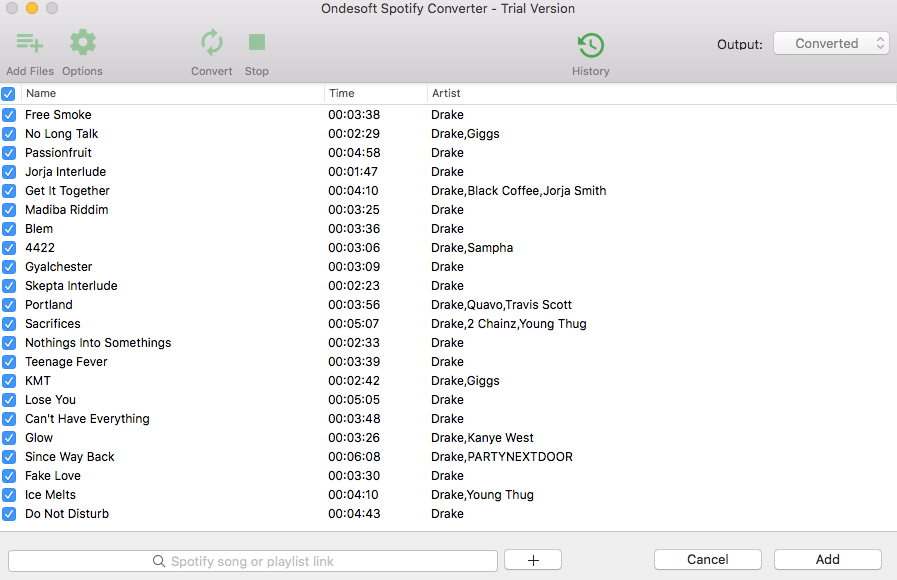 3. Choose output format (optional)
Click the Options button to change the output format. In the Advanced settings, you can choose output format (MP3, M4A, FLAC or WAV), output quality (High 512kbps, medium 320kbps, 256kbps, low 128kbps). In the output settings, you could change the output folder as you prefer.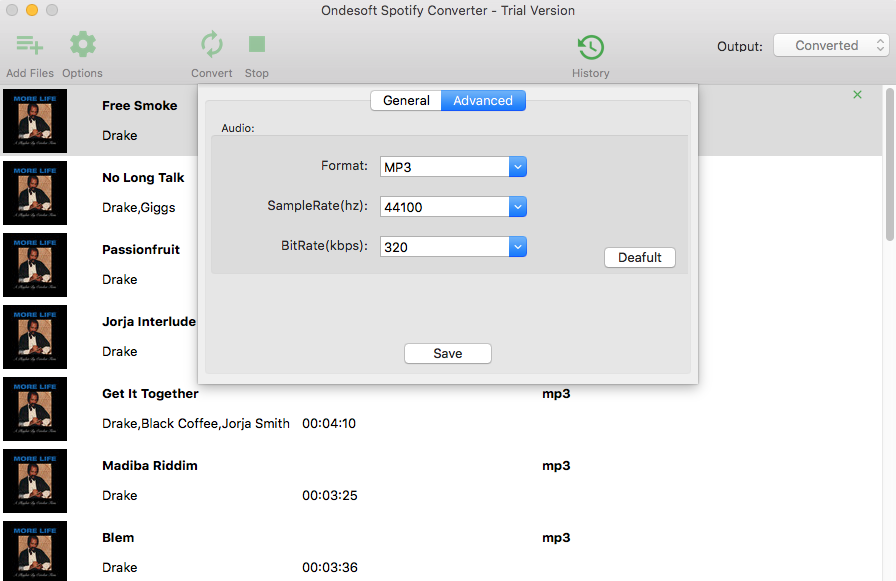 4. Start downloading Spotify Music for free
When finish customization, click the Convert button to start the conversion.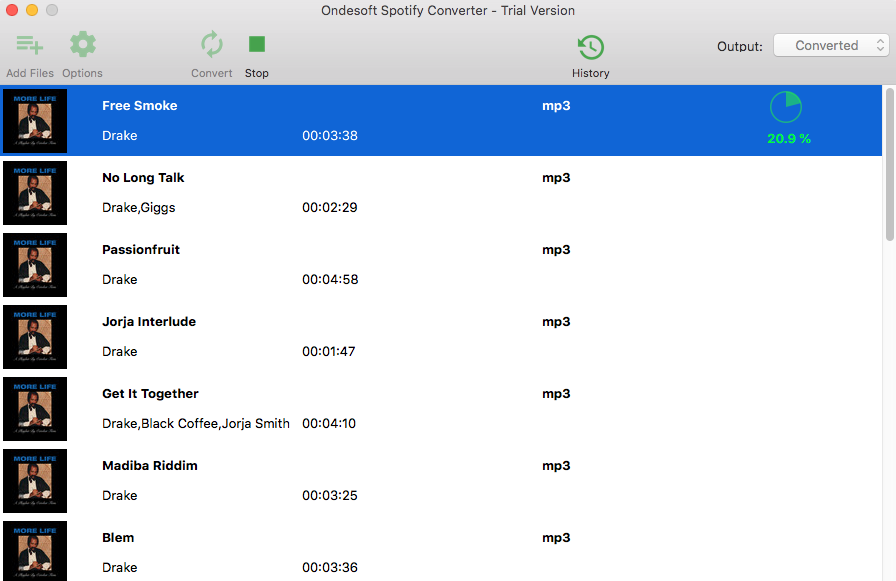 After the conversion done, you can find the converted audios by clicking the History button. All converted Spotify music is DRM-free. You can move these converted files to any editing tools and edit them freely.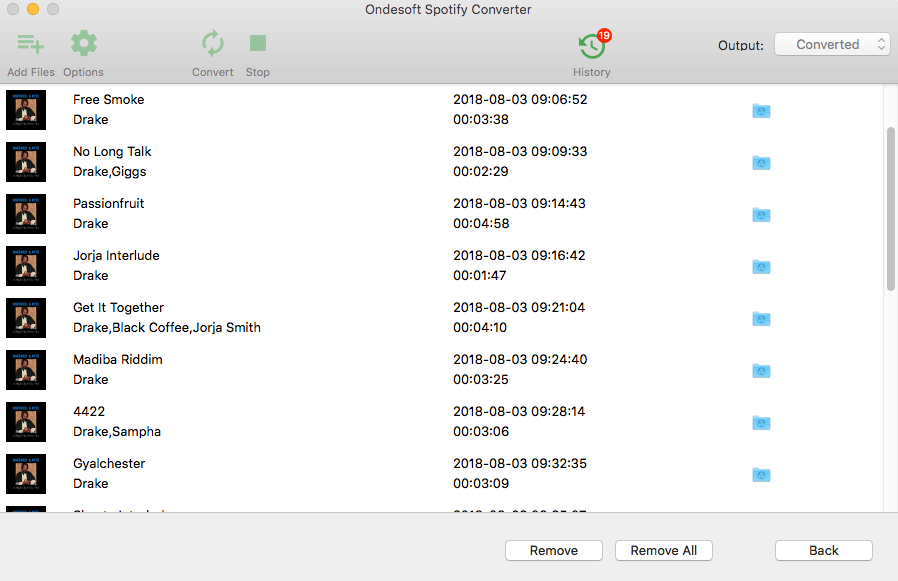 Video Tutorial: Convert Spotify music to MP3 with Ondesoft Spotify Music Converter