Deezer vs. Spotify: a side-by-side comparison
Both Spotify and Deezer let you pay a small fee each month, or even get the music for free if you can put up with ads, and get access to huge music libraries to listen to whenever and wherever you fancy. Here, we compared Spotify and Deezer to see which is better.
Spotify and Deezer have the same basic set of features for their free and paid version:
Spotify and Deezer's free plans
Spotify and Deezer's paid plans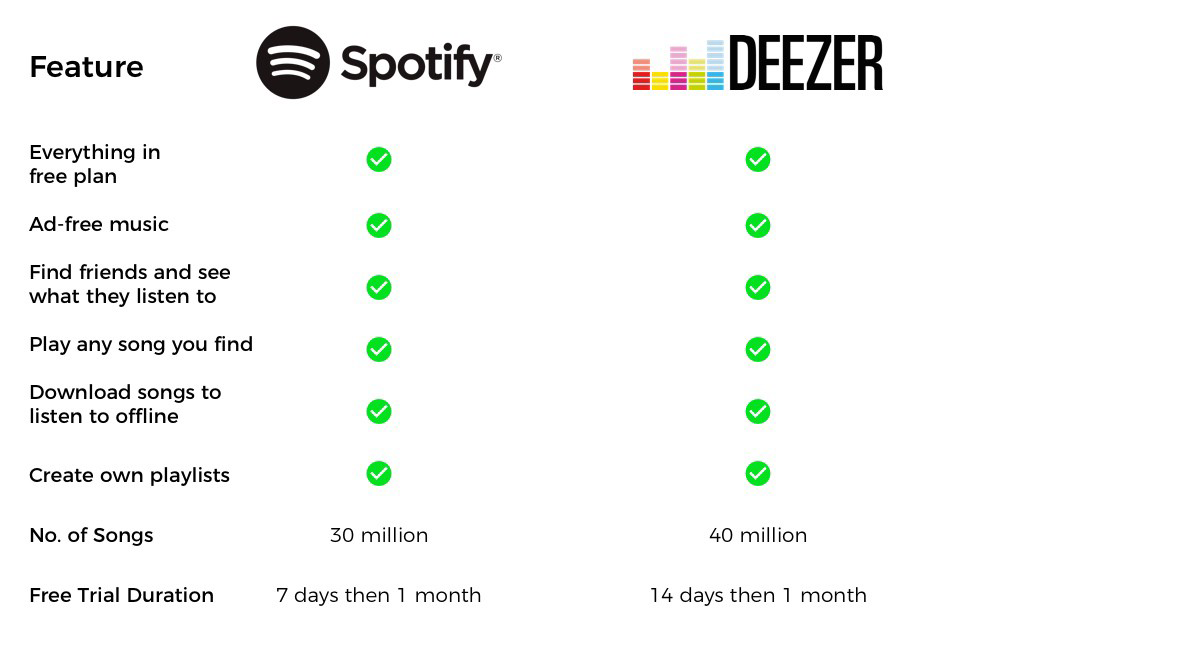 Music Libraries
The most important element of a music streaming service is the music, right? So we'll start by comparing the music libraries of Spotify and Deezer. Each has millions of songs available to listen to. Spotify has more than 30 million songs in its library, which reaches 58 countries, while Deezer has 40 million songs that reach more than 180 countries. The number of songs available in each country varies, so it's likely that the reason for the higher song-count in Deezer's library is local music not available for the UK market.
Audio Quality
The Spotify desktop app's standard quality is Ogg Vorbis 160kbit/s. Premium subscribers can choose to switch on High quality streaming, which uses 320kbit/s.
Deezer is offered in three tiers: an ad-supported Discovery tier, a premium version that runs $9.99/£9.99/AU$11.99 and an Elite version, essentially offers the Rolls-Royce of streaming music services, for $14.99/£14.99/AU$23.99.
The lowest of the tier will stream at an unsavory 128kbps, which is about half the quality of anything on the web version of Spotify. Once you buy into the program, streaming quality steps up to 320kbps at the Premium level and, finally, you can stream hi-def CD-quality 1,411kbps, 16/44.1 kHz music once you plunk down 15 bucks a month for Elite.
Hi-def is a term that was appropriated in the last few years to mean any audio file that is sampled at either 16 or 24 bits – the amount of audio information recorded at a single moment in time – and either 44.1 or 192kHz, which is the number of times data is written per second.
Both of these numbers refer to the actual tracks stored in Deezer's massive catalog of 28 million hi-definition audio files. These files are encoded in FLAC, an uncompressed audio format, and then streamed to you at 1,411kbps.
A summary of supported devices, streaming quality, and catalogue sizes is detailed in the table below.
Service
Songs
streaming quality
Platform
Spotify
35 million
Automatic – 24kbps OGG (mobile only)
Standard – 160kbps OGG (desktop), 128kbps AAC (web/Chromecast), 96kbps OGG (mobile)
High – 320kbps OGG (desktop), 256kbps AAC (web/Chromecast), 160kbps OGG (mobile)
Extreme – 320kbps OGG (mobile only)

Windows/Mac Apps, Web, iPhone, Android phone, iPad, Android tablet, iPod Touch

TV( Samsung, Motorola STB, LG, Chromecast, Android TV, AirPlay, Sony, Amazon Fire TV )

Sound Systems(Sonos, Bose, UrbanEars, Marshall, Amazon, Google, Apple)

Cars(Waze, Jaguar Land Rover, BMW, Android Auto, MINI, Volvo, Ford SYNC)

Console(PlayStation, Xbox One)

Deezer
40 million
Compact – 128kbps
Balanced – 320kbps on Wi-Fi, 128kbps on mobile
Enhanced – 320kbps
Basic – 64kbps

Windows/Mac Apps, Web, iPhone, Android phone, Windows Phone 8, BlackBerry, iPad, Android tablet, Windows 8 tablet, iPod Touch, Apple Watch, Android Wear

TV(ROKU, Chromecast, Bang & Olufsen, Sony, Samsung, LG, Panasonic, Philips, NetRange, Android TV, Amazon Fire TV, TV Foxxum)

Sound Systems( SONOS, Yamaha MusicCast, ROCKI, Bang & Olufsen, Phantom, LG Music Flow, Harman Kardon, SoundTouch, Samsung Wireless Audio 360, HEOS by Denon, Sony HD Audio, Onkyo Network, NuVo, Bluesound Network Player, Cabasse Stream HiFis, BIG JAMBOX, Philips, MOON)

Cars(MirrorLink via RockScout, Android Auto, CarPlay, Fiat 500X, Jeep Renegade, Parrot, BMW, MINI, Clarion)
Music Discover
Another big appeal of music streaming services is the discovery features. Music lovers are always looking for something new to listen to.
Deezer has a cool feature called Hear This, a music feed that's personalized for you. It shows you new albums and tracks from artists you listen to or add to your favorites, as well as Deezer picks based on your listening habits and playlists created by users with similar music tastes to you, so you'll never run out of tracks to listen to.
Spotify navigates the vast universe of music for you and, based on your taste, recommend what we think will be your new favorite tracks. Discover Weekly is a personalized playlist with 30 old and new songs Spotify thinks you've never heard of, updated every Monday. The songs are personalized for each user so no one user has the same Discover Weekly playlist.
Design and User Interface
Most people like Deezer's light, clear and simple design across both the web/desktop versions of the service and the mobile/tablet versions, and think it's easier to navigate than the dark, quite complex interfaces of Spotify,
Listen Offline
Spotify Premium subscribers get the ability to download music and listen offline in high-quality, limited to 3,333 tracks that'll be available offline for up to 30 days.
As a Deezer paid subscriber, you can download music to your app or desktop and listen to it even when don't have an internet connection. It's limited to 1000 songs per playlist on your mobile, but there isn't a limit to how many songs you can download overall. Also, if a playlist exceeds 1000 songs, you can still add more and you'll be able to see all of them on your computer, but only the first 1000 will show up on your mobile devices.
Final verdict
Every streaming service has its strengths and weaknesses. While Spotify leads the subscription streaming music industry internationally – with over 159 million active users. If you're looking for a service that you can listen to for free, we'd recommend opting for Spotify, as it'll serve you better than the free version of Deezer. Plus, the number of subscribers to Spotify is higher than Deezer and social integration is great, so if you're planning on sharing the experience with friends, Spotify might be the better option.
But there are also some limitations of free version. For example, free users will be interrupted by ads and can't download Spotify music for offline listening. The best solution to remove above limitations is to find a Spotify downloader tool - Ondesoft Spotify Converter . It downloads Spotify music by recording them through Spotify app with fast speed and output MP3/M4A/WAV/FLAC. You can use it to download Spotify music with a Spotify free account. The recorded songs will preserve 100% original quality and all ID3 tags. Follow the steps below to download Spotify music with Spotify Free subscription .
1. Run Ondesoft Spotify Converter
Download, install and run Ondesoft Spotify Converter on your Mac or Windows. Please make sure you have installed Spotify app on your computer.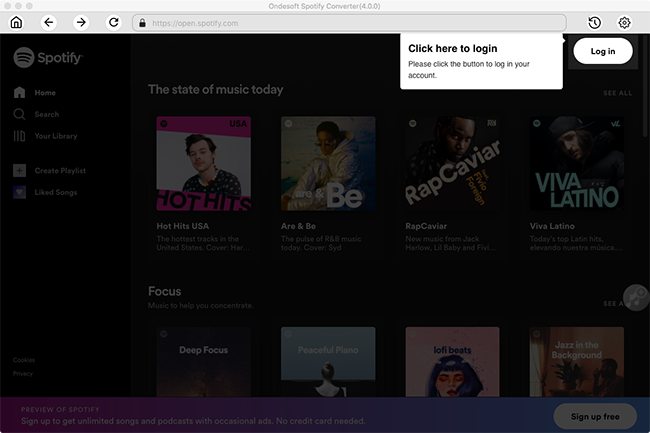 2. Drag&drop Spotify songs, albums or playlists
Drag&drop songs, playlists or albums you want to download from Spotify app to the interface directly. Or click Add Files, copy&paste the link of the song, album or playlist to the bottom area. And then click Add.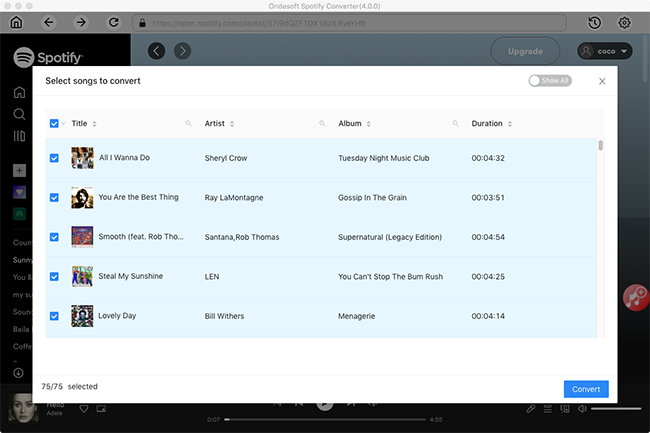 All songs in the albums will be checked by default. You are free to uncheck the tracks you don't want to convert. Then click Add to import all checked songs.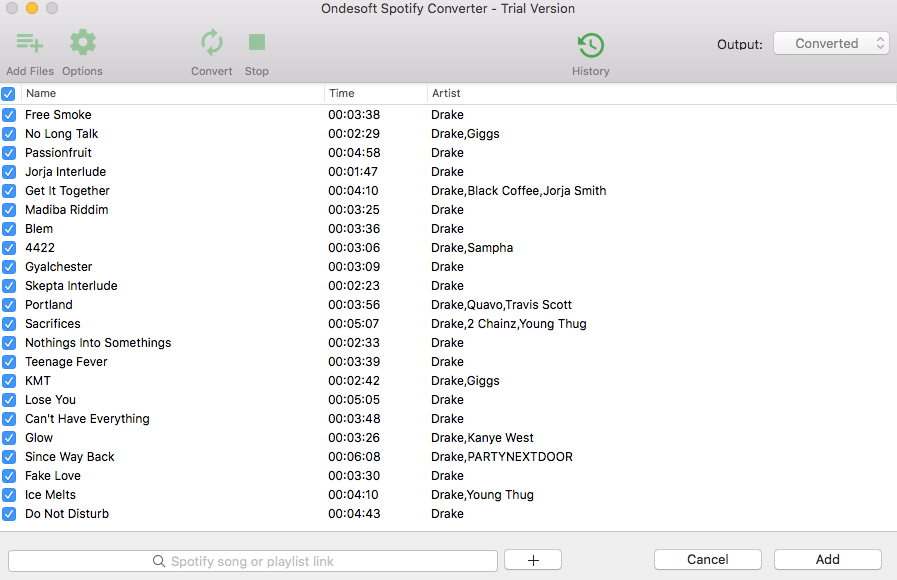 3. Choose output format (optional)
Ondesoft Spotify Converter will show the song artwork, title, artist, duration and output format on the interface. The default output format is MP3. It also supports M4A, WAV, FLAC. Click Option button to change output format or output folder if you need. You can also change bitrate, samplerate according to your needs.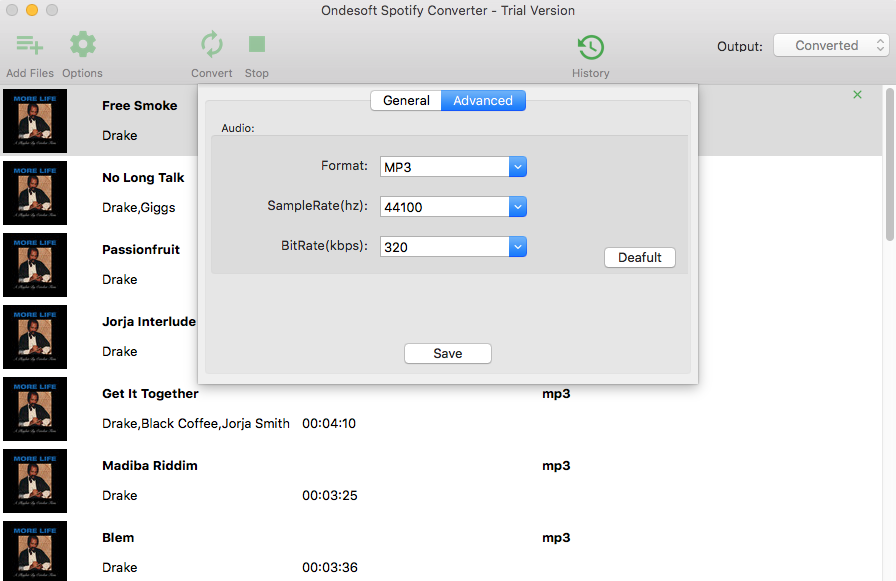 4. Click Convert button
Click Convert button to start recording Spotify music to the format you choose.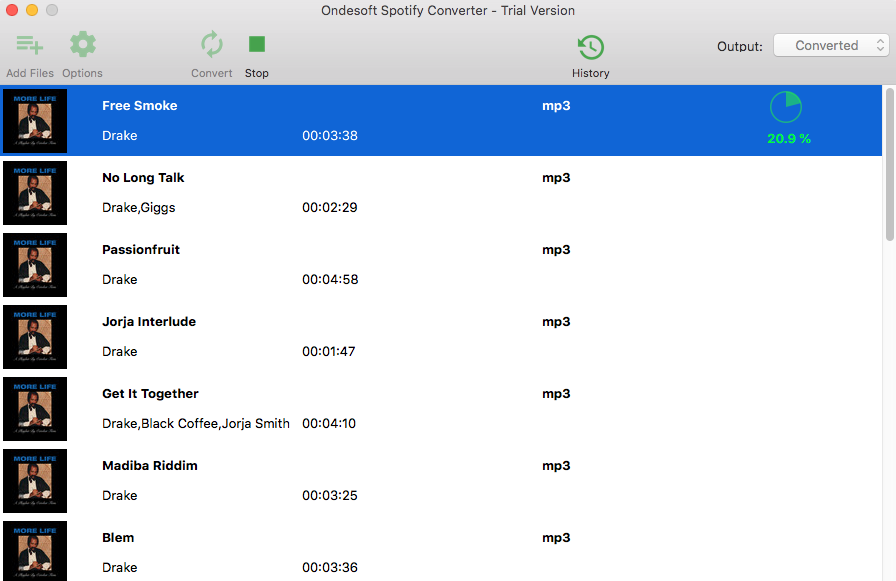 After conversion, click the History button to quickly locate the DRM-free Spotify song. You can then transfer and play it anywhere.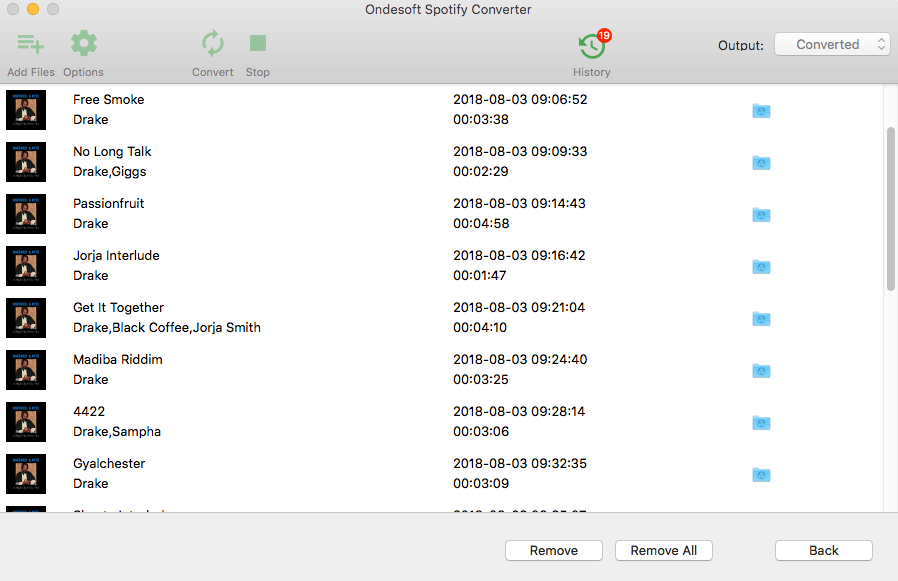 Video Tutorial: Convert Spotify music to MP3 with Ondesoft Spotify Music Converter