Spotify VS. Tidal comparison
TIDAL is the first music service with High Fidelity sound quality, High Definition music videos and Curated Editorial, expertly crafted by music journalists. Spotify is a digital music service that gives you access to millions of songs. Despite increasing competition, Spotify is still hands-down our favorite music streaming service. Both Spotify and Tidal have advantages and disadvantages. So we are going to make simple comparisons between Spotify and Tidal to find out Which streaming service is better.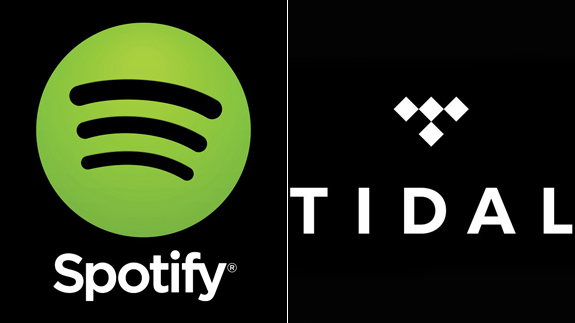 Pricing
Spotify: £9.99/$9.99 a month, £14.99/$14.99 family, £4.99/$4.99 student, free ad-funded service
Tidal: £19.99/$19.99 a month HiFi (16-bit/44.1kHz & MQA), £9.99/$9.99 regular, no free service, £14.99/£29.99 family, £4.99/£9.99 student
Tidal doesn't provide free service. But Spotify Free isn't really free, of course – it's ad-supported. On the web or the desktop app you can play any track, album or playlist at any time or in any order, which is pretty good, but you'll hear an ad, which you can't skip, every few songs.

Sound Quality
Spotify: up to 320kbps OGG
Tidal: 1411kbps FLAC, 320kbps AAC, 24-bit MQA
If you subscribe to Spotify Premium, you can choose between three sound quality levels: normal, high and extreme. The extreme setting uses 320kbps, which is perceptually close to lossless. But Spotify doesn't offer any lossless or Hi-Res streaming.
With a $19.99/£19.99 Tidal HiFi subscription you can stream lossless 16-bit FLAC and ALAC audio, but there are also thousands (but not millions) of TIDAL Masters files that stream at 24-bit.
A TIDAL HiFi membership supports four sound quality options for you to choose from:
Master - Authenticated files from the mastering process. Studio quality. Unrivaled clarity and depth. MQA is authenticated by the artists themselves.
HiFi - Lossless CD quality (1411kbps or 16bit / 44.1kHz).
High - Best compromise between data usage and sound quality (320kbps AAC).
Normal - Reduced data usage for slower connections.
Discovery Features and Social
Spotify: Moderate curation, Facebook integration, optional apps, recommendations based on listening habits/occasions, genre and artist-led radio stations, Discover Weekly playlists
Tidal: Curated content from music journalists, artist interviews
Spotify navigates the vast universe of music for you and, based on your taste, recommend what they think will be your new favorite tracks. With Spotify social, you can share your favorite music and you will find all your Facebook friends in your People list. You can see your friend's Facebook picture, name, published playlists, starred tracks and most-played tracks.
TIDAL Discovery allows submissions from unsigned artists through do-it-yourself distribution services. TIDAL Discovery is a place dedicated to specifically aspiring artists, and those who actually want to listen to them. Tidal also allows you to share music with your Facebook friends, but the social features are nowhere near as mature as the ones in Spotify.

Mobile Apps and Support
Spotify: iOS, Android, Windows Phone, BlackBerry, PS4/PS3 app, desktop/web player, Apple Watch, Android Wear, Amazon Alexa, Google Home
Tidal: iOS, Android, desktop/web player
Spotify has the widest support, found in places where the other services aren't. For example, it's built into some home cinema receivers through Spotify Connect, and is generally considered the 'default' streaming service to support by wireless speaker makers.
Tidal? Not so much. As ever, Tidal is the service for those who are into streaming for the music side, rather than the tech peripheral side. It sticks to the standard web and mobile apps.
Offline Features
Spotify: You can download up to 10,000 songs on each of up to 5 different devices.
Tidal: Unlimited mobile downloads
Spotify has 10,000 track limit. This is split across three devices, divvied up as 3,333 downloads for each. If you're a big music fan with an even bigger microSD card, this could prove a problem.
Tidal only limits offline downloads by the amount of storage on your device.

Music Library
Spotify: Over 50 million tracks
Tidal: Over 60 million tracks
Spotify first gained its dominant position on the strength of its impressive 30 million-plus song catalog. Couple this with the fact that it adds more than 20,000 new songs each day and the service offers more music than your ears even know what to do with. It also brings all the latest record releases, exclusive live sessions, and various new singles right to its New Releases Tab each Friday, providing a great way to hear the latest from established artists and rising stars alike.
Tidal offers only subscription services, giving users access to over 48 million tracks and 175,000 music videos as well as exclusive content for about $10 a month.
Popularity
Spotify: Over 70 million (Jan 2018)
Tidal: 3 million (controversial)
Spotify is the global market leader in terms of paid subscribers—it has more than 70 million, and 140 million active users.
Tidal said last year it had exceeded 3 million users.
Spotify is the best music discovery platform you'll find, it has a huge catalog, and it can be tested for free indefinitely. If you demand the highest audio resolution, and you're willing to pay for it, you can subscribe to Tidal. Although Tidal provide the highest audio quality, Spotify still has the edge. Spotify's user interface is accessible, uncluttered, and makes playlist management simple. What's more, Spotify's new music discovery playlists, especially Discover Weekly, keep it brilliantly fresh, and it's also free for those who can't yet make a commitment.