Solved: Upload songs to Spotify for artists and listeners
Spotify is the largest music streaming platform in the world, with more than 160 million active users and 70 million paid subscribers in 61 markets. It's essential for emerging artists to not only have their music on Spotify, but to take action on the platform via Spotify for Artists.
Part 1 For Artists: Use music distributors
There are many music distributor that help you distribute music on Spotify, such as CD Baby , Distrokid , or EmuBands , etc. CD Baby makes it easy to deliver your songs to Spotify and other digital music platforms. It will also help you get instant artist verification on Spotify - so there'll be no delays in accessing your Spotify for Artists account. CD Baby standard costs $9.95 per single and $49 per album while Pro costs $34.95 per single and $89 per album. The Pro option adds Publishing Royalty Collection. Click here for more details.
Distrokid claims itself the easiest way for musicians to get music into Spotify and instant access to Spotify for Artists. Pay only $19.99 then you can upload unlimited albums & songs for a year. Keep 100% of your royalties.
EmuBands claims itself a Spotify Preferred Provider. It also offers Instant Access to Spotify for Artists and 100% of your Royalties. It chages a simple, one-time fee per release instead annual fees. The one-time fee is $42.5 for single (1 to 2 tracks), $59.95 for EP (3 to 5 Tracks) and $84.95 for album (6 to 20 Tracks).
Part 2 For Artists: Upload by yourself with Spotify for Artists
Who can use Spotify for Artists?
Uploading music through Spotify for Artists is currently available by invitation to independent artists based in the United States. To be eligible to release through Spotify for Artists, you must control the distribution rights to your music, and you must have a US bank account and tax ID. iOS users can find it by visiting the App Store , while Android users can find it in the Play Store . Related: Spotify for Artists Tips
How to use Spotify for Artists to upload songs?
Click the green upload button in Spotify for Artists to create a release including music files, album art, and the correct metadata. You can release singles, EPs, or albums, and you'll see a preview of how your music will appear to listeners before you submit.
Before you begin your release, you should collect:
Music files. We accept WAV, WAVE, or FLAC (16- or 24-bit with sample rates 44.1kHz or higher).
WAV and WAVE file formats must be PCM.
Album art must be square, at least 1600 x 1600px in PNG (preferred) or JPEG format. By adding an image, you agree that you have the right to use it and that it's subject to our copyright policy and terms .
The names of your collaborators, including featured artists and non-recording collaborators like songwriters and producers.

Part 3 For listeners: Import your local songs
In addition to the 40 million songs of Spotify, you can also add your local songs to Spotify.
On desktop:
1. Click the arrow on the top right corner in the top-right corner of the Spotify app and select Settings.
2. Scroll down to Local Files . Downloads and My Music are selected by default. Switch off any sources you don't want Spotify to access.
3. If the songs you want to add are not in the 2 folder, click "ADD A SOUCE" and choose the folder.
Supported file types:
.mp3
.m4p (unless it contains video or DRM protected)
.mp4 (if QuickTime is installed on your computer)
Note: The iTunes lossless format (M4A) is not supported.
On mobile and tablet(only for premium subscribers):
1. Add the local files to Spotify on your desktop first, see above steps.
2. Add the files to a playlist.
3. Log in on your mobile or tablet using the same WiFi network as your desktop app.
4. Select the playlist containing the local files.
5. Switch on Download.
Part 4 Upload Apple Music songs to Spotify
As you can see the above, you can add m4p songs to Spotify, but the songs must be DRM-free. That's why when you upload download Apple Music songs to Spotify, you will find the songs won't play. This is because the m4p songs downloaded from Apple Music are DRM protected and can only be played with iTunes on authorized devices. Here we will show you how to download Apple Music to mp3 so that you can upload offline Apple Music songs to Spotify.
Step1. Download, install and run Ondesoft iTunes Converter
Download, install and run Ondesoft iTunes Converter. All your iTunes files including playlists are loaded automatically, so make sure Apple Music songs, albums, playlists have been added to iTunes Library. Select music you want to convert in the file list. You can choose more than one or all of them.
Step2. Change output settings
Ondesoft Apple Music Converter supports converting Apple Music M4P songs to MP3, M4A, AC3, AAC, AIFF, AU, FLAC, M4R and MKA. Here we choose mp3.
For each output format, Apple Music converter provides different profile settings: High, Normal and Low with different Bitrate, SampleRate and channels combinations. You can also customize the value as you like.
Output filename can contain Title, Artist, Album, TrackID and DiskID, such as Artist - Album - Track - Title.mp3. Click Options on the menu bar to open Preferences and customize output filename format if you like.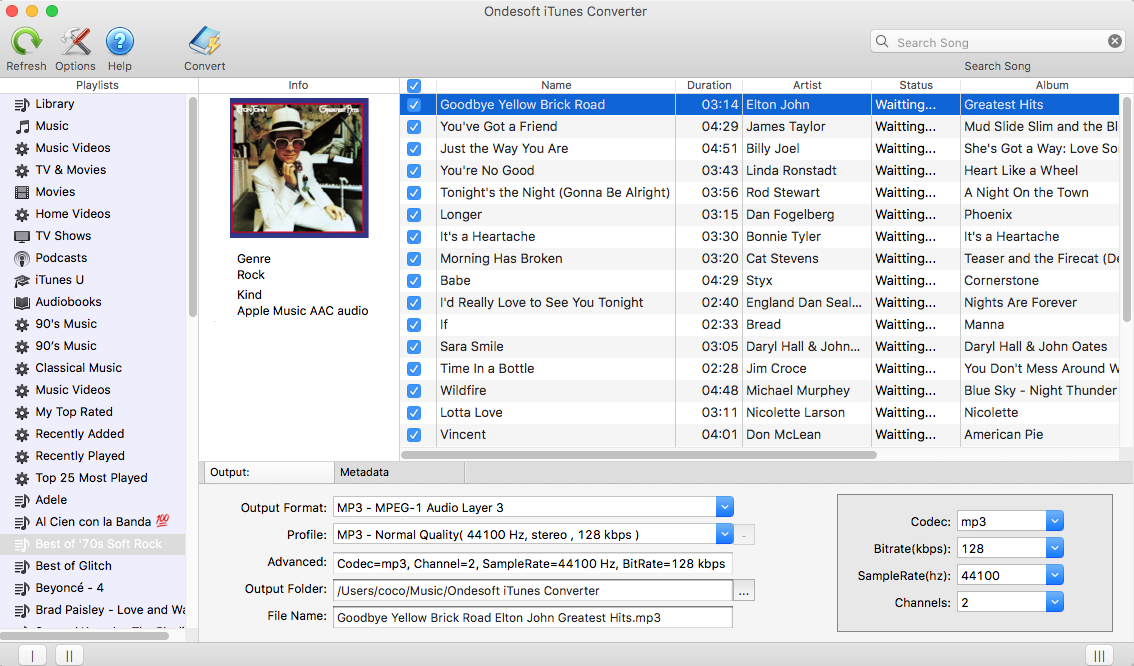 Step3. Remove DRM from selected Apple Music songs.
Click the Convert button to start downloading Apple Music to mp3. After converting, click Explore output files to find all converted mp3 Apple Music songs. You can follow steps in above Part 3 to upload them to Spotify.