Drake Songs Free Download - Free Drake MP3 Download
With a free Spotify account you can stream most Drake's song for free on your phone, tablet and computer. But do you know you can also download Drake songs to mp3 from Spotify? It's super easy with Ondesoft Spotify Converter. You can stream below Drake albums on Spotify and download them to mp3 for offline playback.
| | |
| --- | --- |
| Dark Lane Demo Tapes (2020) | Deep Pockets, When To Say When, Chicago Freestyle, Not You Too, Toosie Slide, Desires(with Future), Time Flies, Landed, D4L, Pain 1993, Losses, From Florida With Love, Demons, War |
| Care Package (2019) | Dreams Money Can Buy, The Motion, How Bout Now, Trust Issues, Days in The East, Draft Day, 4pm in Calabasas, 5Am in Toronto, I Get Lonely, My Side, Jodeci Freestyle, Club Paradise, Free Spirit, Heat Of The Moment, Girls Love Beyonce, Paris Morton Music, Can I |
| Scorpion (2018) | Survival, Nonstop, Elevate, Emotionless, God's Plan, I'm Upset, 8 Out of 10, Mob Ties, Can't Take a Joke, Sandra's Rose, Talk Up, Is There More, Peak, Summer Games, Jaded, Nice for What, Finesse, Ratchet Happy Birthday, That's How You Feel, Blue Tint, In My Feelings, Don't Matter to Me, After Dark, Final Fantasy, March 14 |
| More Life (2017) | Free Smoke, No Long Talk, Passionfruit, Jorja Interlude, Get IT Together, Madiba Riddim, Blem, 4422, Gyalchester, Skepta Interlude, Portland, Sacrifices, Nothing into Somethings, Teenage Fever, KMT, Lose You, Can't Have Everything, Glow |
| Views (2016) | Keep the Family Close, 9, U with Me?, Feel No Ways, Hype, Weston Road Flows, Redemption, With You, Faithful, Still Here, Controlla, One Dance, Grammys, Childs Play, Pop Style, Too Good, Summer Over Interlude, Fire&Desire, Views, Hotline Bling |
| What A Time To Be Alive (2015) | Digital Dash, Big Rings, Live from the Gutter, Diamonds Dancing, Scholarships, Plastic Bag, 'm the Plug, Change Locations, Jumpman, Jersey, 30 for 30 Freestyle |
| If You're Reading This It's Too Late (2015) | Legend, Evergy, 10 Bands, Know Yourself, No Tellin, Madonna, 6 God, Star67, Preach, Wednesday Night Interlude, Used To, 6 Man, Now & Forever, Company, You & the 6, Jungle, 6PM in New York, How About Now, My Side |
| Nothing Was The Same (2013) | Tuscan Leather, Furthest Thing, Started from the Bottom, Wu-Tang Forever, Own It, Worst Behavior, From Time, Hold On, We're Going Home, Connect, The Language, 305 to My City, Too Much, Pound Cake/Paris Morton Music 2, Come Thru, All Me |
| So Far Gone (2009) | Lust For Life, Houstatlantavegas, Successful, Let's Call It Off, November 18th, Ignant Shit, A Night Off, Say What's Real, Little Bit, Best I Ever Had, Unstoppable, Uptown, Sooner Than Later, Bria's Interlude, The Calm, Outro, Brand New, Congratulations |
Free Download Drake Songs to MP3 with Ondesoft Spotify Converter
Many people ask how to download Drake songs? Well, there are several options.
If you are Apple Music subscriber or Spotify paid subscriber, you can download the songs for offline playback but only on that device within the app. You can also purchase the songs from iTunes Store. But if you want to download Drake songs to mp3 format to play them on any device such as mp3 player, you will need this Spotify to mp3 converter - Ondesoft Spotify Converter.
Ondesoft Spotify Converter is a professional Spotify song downloader that allows you to download any songs from Spotify to mp3 with either Spotify free or premium account. Spotify free is availble to anyone and it doesn't cost any money.
Spotify premium users can download songs for offline listening, but the downloaded song can only be accessed on that device via Spotify. So if you are a premium user but want to enjoy offline songs anywhere, try Ondesoft Spotify Converter. It makes downloading Spotify songs a piece of cake.
1. Run Ondesoft Spotify Converter
Download, install and run Ondesoft Spotify to MP3 Converter on your Mac or Windows. Log in your Spotify account.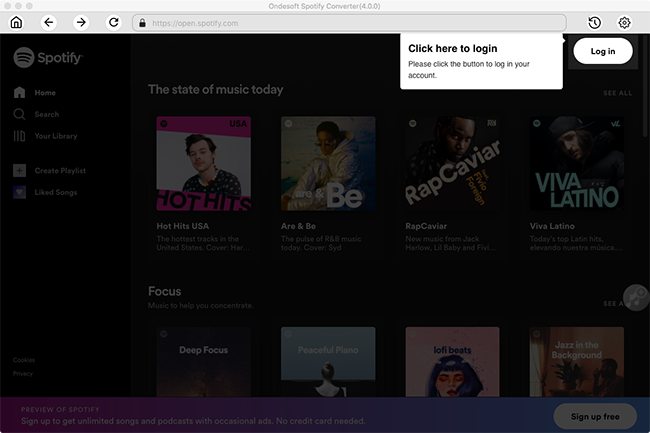 2. Drag&drop Drake songs
Search Drake from Spotify. Click Songs, Albums or Playlists and find the songs you want to download to mp3. Drag&drop the songs, albums or playlist to Ondesoft Spotify Converter interface. Or click "Add Files", copy&paste the link of the song/album/playlist to the bottom area and then click + icon. To copy the link, right click the song/album/playlist and choose "Share" - Copy song/album/playlist Link.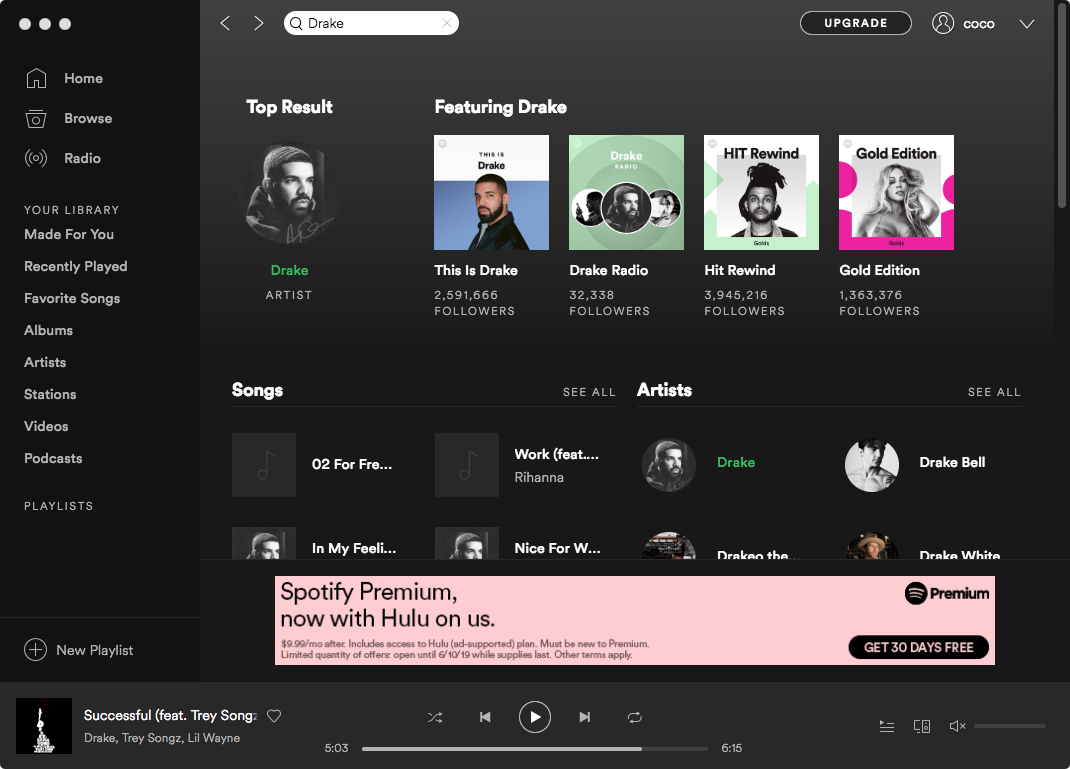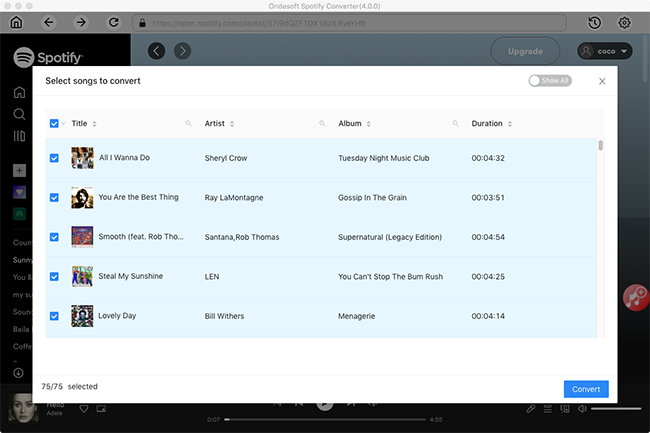 All songs in the albums will be checked by default. You are free to uncheck the tracks you don't want to convert.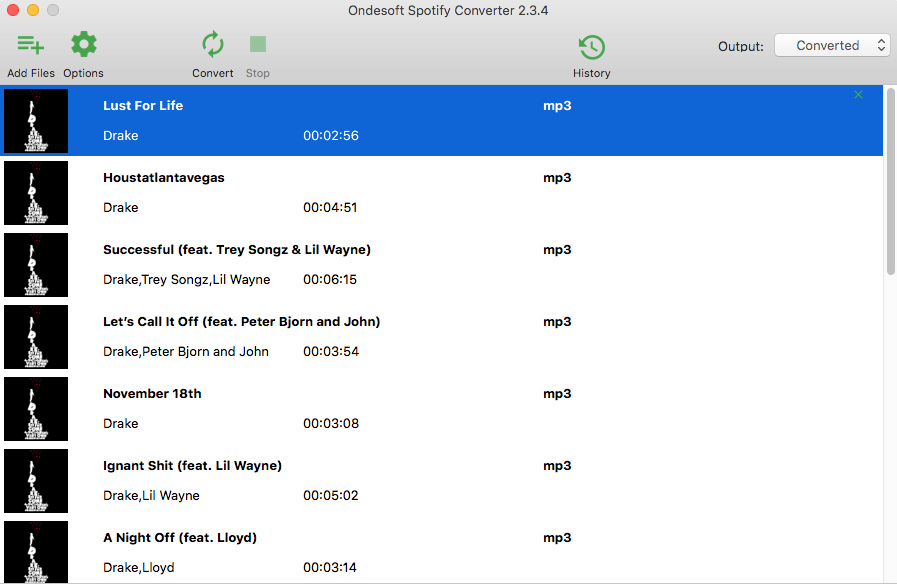 3. Choose output format (optional)
The default output format is MP3. Besides downloading Spotify Music to MP3, it also supports downloading Spotify Music to M4A, WAV, FLAC, OGG, AIFF. Click Option - Advanced to change output format, SampleRate or BitRate according to your needs. Click Option - General to change output folder if you like.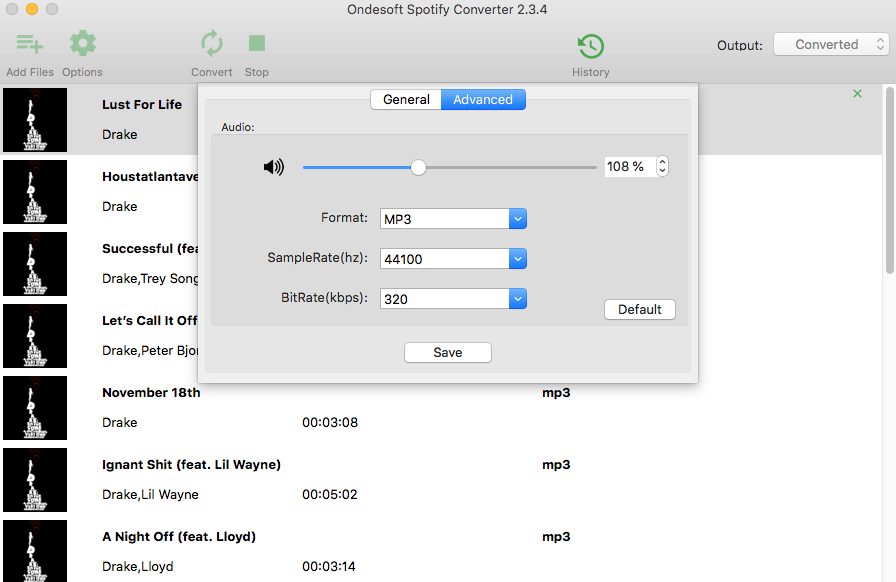 4. Click Convert button
If you don't need to change output settings, just skip to this step. Click Convert button to start converting Spotify music to MP3.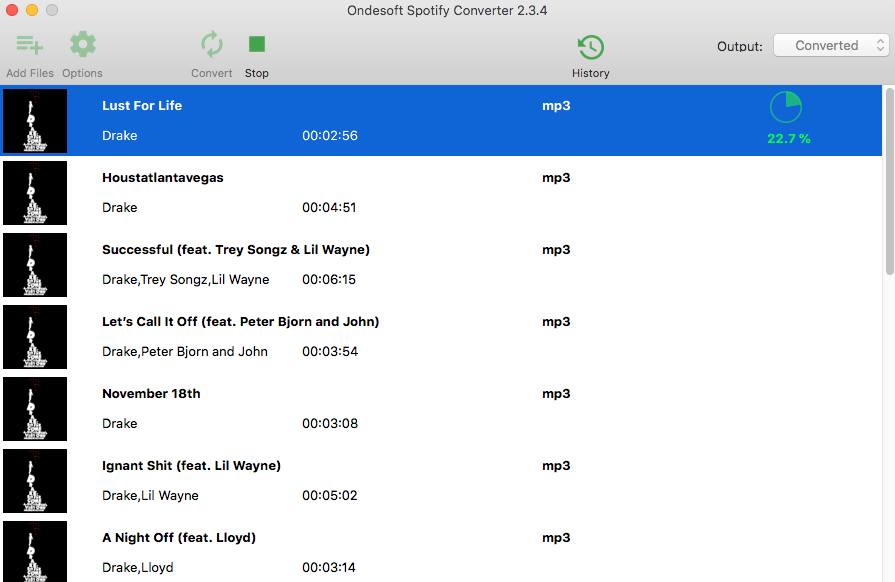 After conversion, click below folder icon to quickly locate the DRM-free songs. You can now listen to the So Far Gone album anywhere you want without internet connection.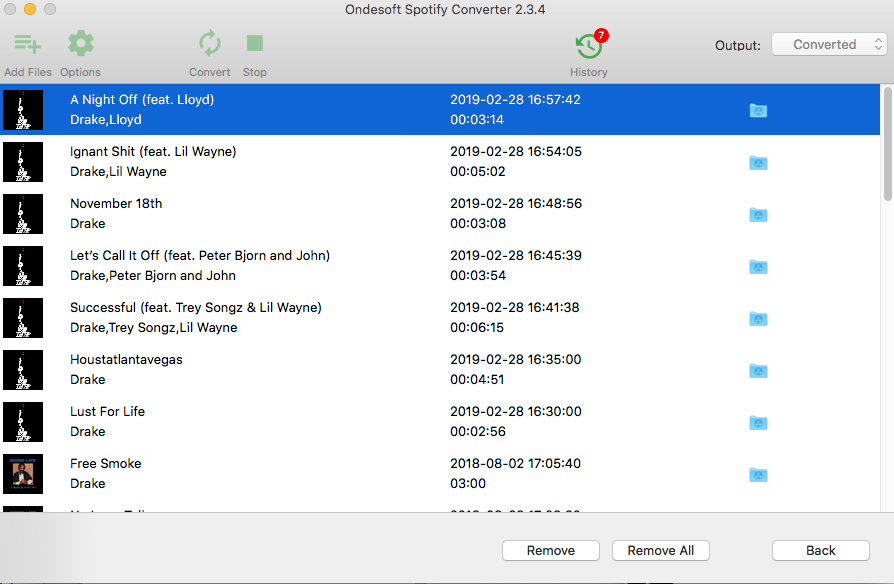 Video Tutorial: Convert Spotify music to MP3 with Ondesoft Spotify Music Converter