How to play Spotify music on PS5
In addition to games, the PlayStation 5 can also be used to play a wide range of top entertainment services, but they have not yet been officially introduced. However, Sony has finally announced that the PS5 will support for at least six entertainment apps including Netflix, Disney+, Apple TV, YouTube, Spotify and Twitch. The PS5 will not just be a gaming console, but an entertainment hub as well. If you plan to use the PlayStation 5 not only for gaming, the PS5 will also can be used for things like Netflix to watch movies, or Spotify to play music.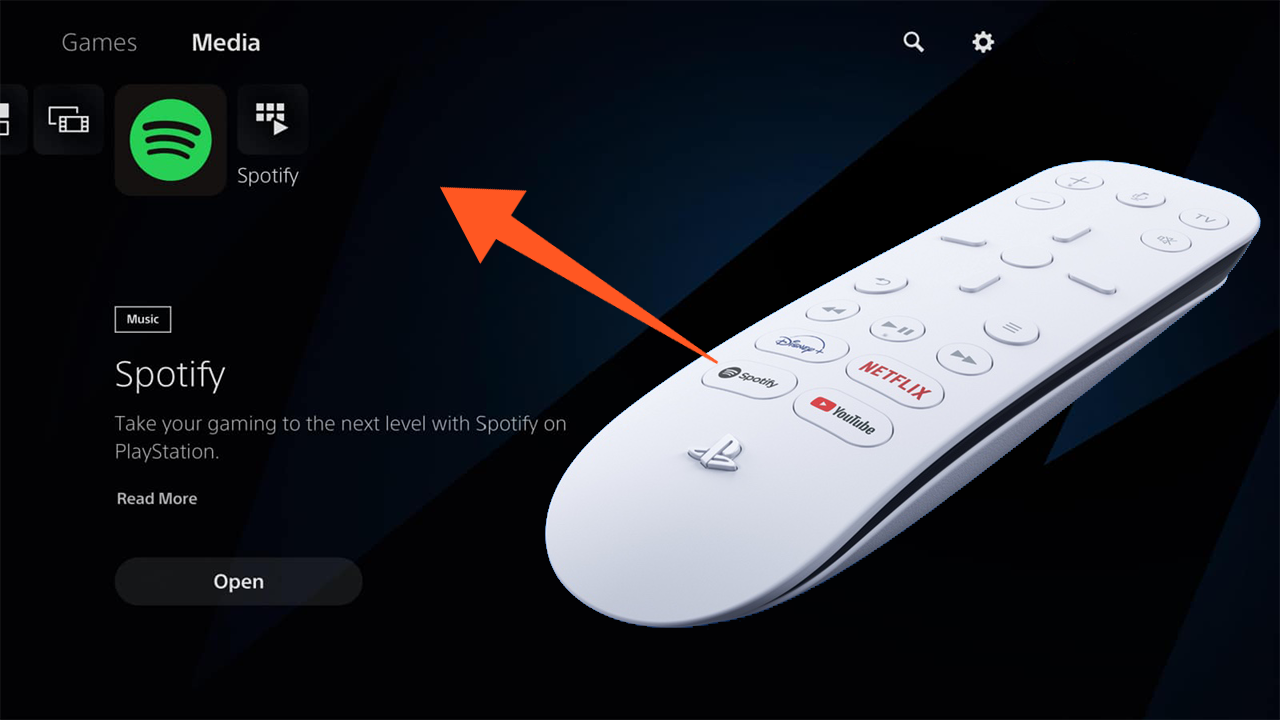 Sony has announced through a blog post that popular streaming apps will be available on PS5. These major online streaming services include Netflix, Apple TV, Disney+, Hulu, Peacock, Spotify, Twitch and YouTube. More apps will be added to the list in the future such as Amazon Prime Video, MyCanal, Hulu, Peacock and more.
If you want to control various entertainment apps on PS5 more easily, then you can purchase a separate "Media Remote" for PS5. It allows you to power on your PS5 console and navigate its menus directly. The remote can be used to turn the console on and control all your media apps. There are dedicated buttons to launch Disney Plus, Netflix, Spotify, and YouTube. It also supports to quickly navigate media with built-in play/pause, fast forward and fast reverse buttons.
With PS5, there are a few new ways to stream your favorite songs from Spotify. Go to the new media tab on the PS5's Home screen and scroll down, you'll find some new apps like Netflix, Disney+, Spotify and Twitch. Then you can download Spotify and link to your account. The PS5 Media Remote's dedicated Spotify button allows you to access Spotify quickly and easily. In the PS5's Control Center, you can also quickly switch between gams and apps, skip and pause the Spotify music without leaving your game.
What's more, if you want to listen to Spotify music while you're inside of a game, you can play the Spotify music on your Phone via Spotify Connect. Then the Spotify music will play in the background, and it won't interrupt your game.
The Spotify PS5 integration has completely revolutionized how you listen to music. If you are keen on the PS5, it is definitely worth checking out! However, there are also two major limitations of listening to Spotify music on PS5. First, streaming Spotify music to your PS5 might slow the internet speed when you are playing games. Second, free Spotify users must bear the annoying ads inserted when you are streaming music. To break above limitations and make more comfortable game and listening experiences, you can download Spotify music, block ads and enjoy Spotify music on PS5 offline. As we all know, Spotify music are protected, and free users can not download songs or skip the ads on Spotify. Is there any way to block ads and download Spotify music freely?
All you need is a powerful Spotify Music Downloader - Ondesoft Spotify Converter. It enables you to get rid of Spotify ads without upgrading to Premium subscription and download Spotify songs, albums and playlists to MP3, M4A, WAV, FLAC, AIFF and OGG format with all ID3 tags. With this professional converter, you can remove ads from Spotify songs and enjoy the original quality songs on any devices.
Read More: How to set Spotify as alarm sound on Android?
The following is a detailed tutorial about how to download Spotify songs without ads by Ondesoft Music Converter.
Step 1 Import songs, albums or playlists
Download, install and run Ondesoft Music Converter on your Mac or Windows. It will open Spotify automatically. Drag and drop songs, albums or playlists from Spotify to the main interface. Or you can copy and paste the link to the search box and click "+" button to add songs.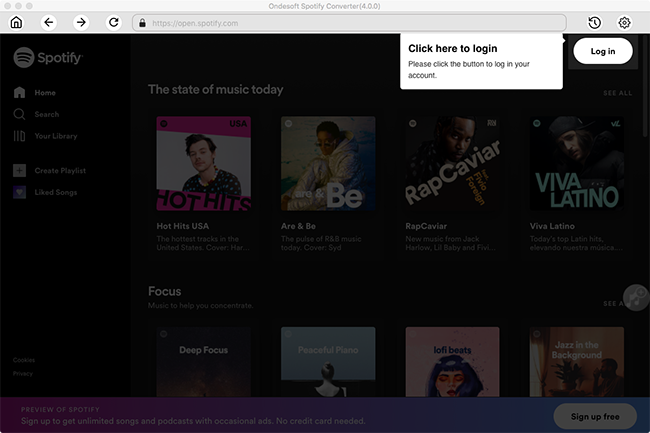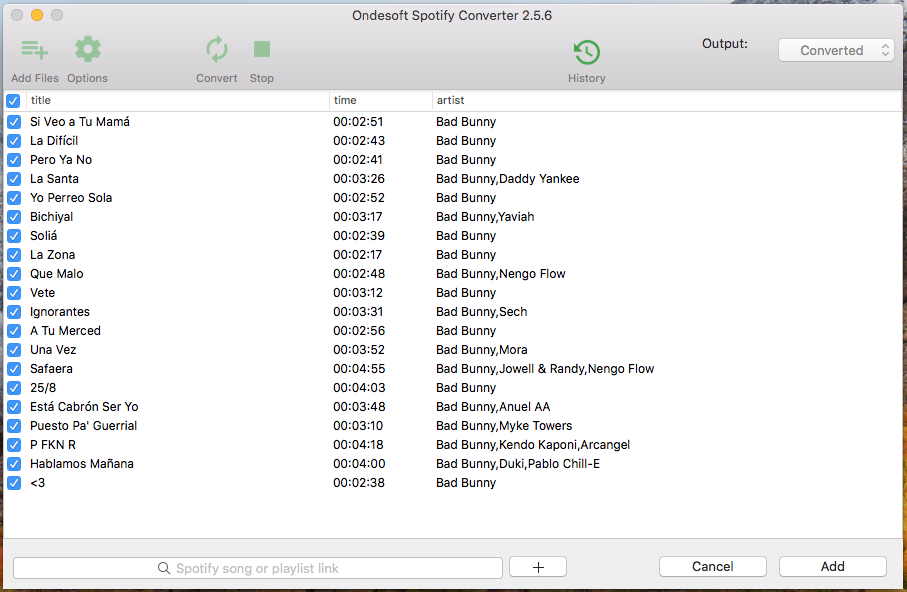 Step 2 Adjust Output Setting
Click the Options button. Here you can change the output format to MP3, choose output quality, rename the output file and set the output folder.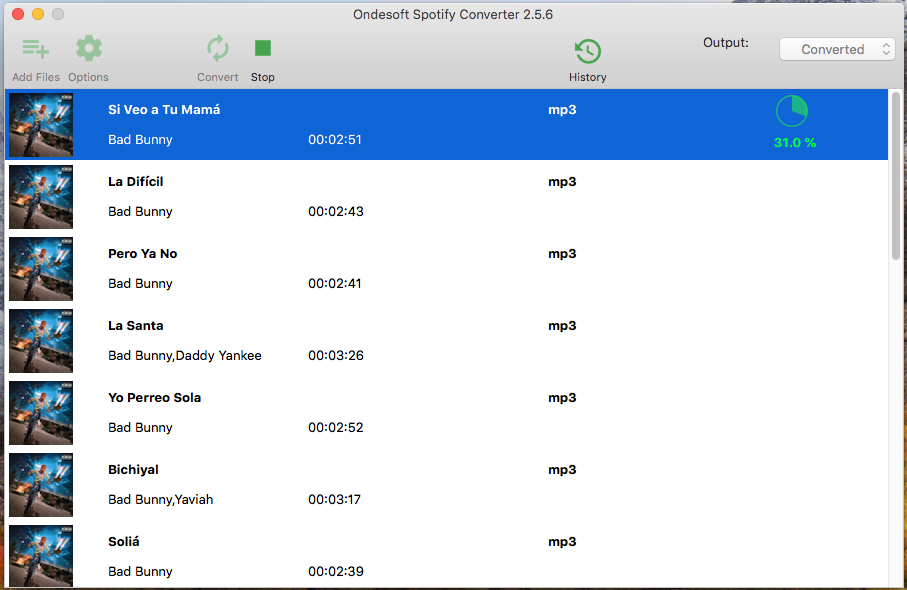 Step 3 Start Converting
Click the Convert button to start converting. After the conversion is done, click History button, you will find all converted songs. Then you can transfer these converted songs or playlists to your PS5 and enjoy them offline.
The following process will show you how to play converted Spotify music on PS5 offline.
Step 1 Connect a USB driver to your computer. Create a "Music" folder on your USB driver. Transfer all converted Spotify songs to the USB driver.
Step 2 Connect the USB drive to the USB port on your PS5.
Step 3 After you connect your USB, boot up your PS5. Open the Media Player, browser the USB driver and you can click on your Music folder to play songs.